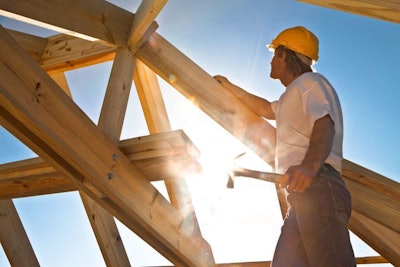 According to a survey conducted by the National Association of Home Builders, labor shortages are hurting the housing and economic recoveries here in the U.S.
Since June 2012, residential construction firms are seeing a growing number of shortages in all positions in the industry including carpenters, excavators, framers, roofers, plumbers, bricklayers, HVAC, building maintenance managers and weatherization workers.
Compounding the matter is the sheer demand builders are seeing. While buyers are seeking to strike before prices get much higher, the amount of homes for sale is at its lowest rate since 1999. And builders nationwide are struggling to meet demand thanks to labor woes and delays in gaining a permit from overwhelmed local authorities.
Meanwhile, though construction employment is on a streak of gains (the latest being 48,000 jobs added in February), it isn't quite matching the housing boom thanks to labor hoarding. This occurred during the recession when companies didn't fire as many workers as the decline in business would have justified.
As a result, more than half of those surveyed by the NAHB had to pay "higher wages or subcontractor bids to secure projects, and consequently, to raise home prices." Plus, 46 percent of the builders surveyed experienced delays and 15 percent were forced to turn down projects. Nine percent lost or cancelled sales as a result of recent labor shortages.
As we've reported before, the main reason for these shortages is the estimated 320,000 skilled workers who left the industry to retire or take what they considered to be more stable jobs such as driving a truck or doing factory work. Another concern is the lack of interest in construction jobs from students.
To combat the shortages, the NAHB and the Home Builders Institute (HBI) have partnered to provide career training and job placement in the industry. HBI offers a variety of portable pre-apprenticeship training programs in a variety of skilled trades.
The NAHB reports that HBI "regularly places approximately 80 percent of its student graduates in jobs in the building sector."
The NAHB forecasts predict that the pent-up demand for housing will continue to grow. In order to "avoid a run-up in prices in hot markets due to labor issues," NAHB Chairman Rick Judson called for a market-based visas system to complement current training programs.
"That would allow more immigrants to legally enter the construction workforce each year when there is a dearth of workers to fill the jobs that are needed," he said.