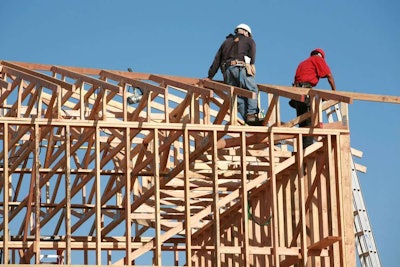 Citing a phenomenon that might not make much sense to those outside of the industry, Neil Irwin took to the Washington Post's Workblog recently to discuss why construction job growth, though recovering, isn't quite matching the numbers of the booming housing market.
Just yesterday we reported that the annual rate on home starts grew in February 0.8 percent to 917,000. The Post notes it's entirely possible that 1 million homes could be started in the U.S. this year.
So why aren't construction jobs seeing that type of explosive growth? Irwin points to "labor hoarding." He explains:
"That's what happens during a recession when companies don't fire as many workers as the decline in business would seem to have justified. Firms don't want to lose all their quality workers and then be unable to keep up with demand when business finally turns around, so they keep people on staff even when there is not enough work to keep them fully busy."
So, because a lot of firms didn't fire as many workers as the recession would have justified, they're not having to make a bunch of hires to meet demand. Consequently, the value of each cosntruciton worker actually fell from $80,000 in 2006 to under $60,000 by 2012. Ouch.
There is good news though. Irwin points out that the average hours per week worked in construction is back around 40 and soon builders won't be able to meet demand by working employees longer hours. They'll have to begin hiring again.
In the end, Irwin sees an average of between 25,000 and 30,000 added construction jobs per month, which is close to what we've seen recently. In February, the industry added 48,000 jobs, but that was the highest gain in six years and won't likely become the norm month to month.