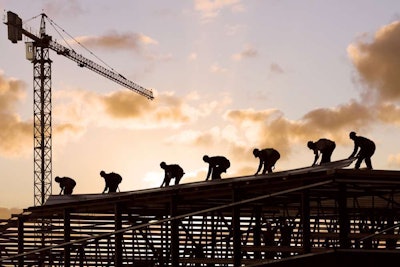 The construction industry continued its streak of monthly job growth, adding 48,000 jobs in February, the highest monthly gain in six years, according to preliminary figures from the U.S. Labor Department. In that six-year span, only March 2007's gain of 80,000 jobs is better.
In total, the construction industry employs a preliminary figure of 5.784 million Americans as of February. That's the highest mark the industry has attained since September 2009 and is a 2.5-percent improvement from the same time last year.
The gains the industry enjoyed in February made up one fifth of the 236,000 total jobs added in the U.S. for the month. The country's unemployment rate dropped to the lowest rate in four years to 7.7 percent. January 's mark was 7.9 percent.
Construction's unemployment rate dropped to 15.7 percent from the January mark of 16.1 percent.
February's total construction industry employment is still far off from the 7.726 million employed in the pre-recession peak of April 2006, but it marked the third consecutive month of gains for the industry.
Since September 2012 construction has added 151,000 jobs. The industry has been forecast to add 140,000 jobs by the end of the year, but if these consecutive gains continue there might be reason for even more optimism.