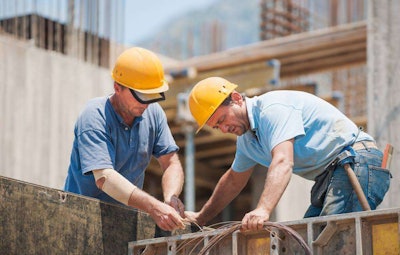 As we discussed yesterday, construction hiring isn't exactly growing as quickly as we'd all like it to be. But the fact of the matter is, it is growing and there are still quite a few jobs to be had out there. But as U.S. News and World Report recently pointed out, you need experience.
With that in mind the publication used U.S. Bureau of Labor Statistics data to put together a list of the 10 best construction jobs to be had.
And the list isn't based simply on employment projections, according to the publication they've built this list based on "unemployment rates, salaries, good job prospects, plus advancement possibilities, low stress, and a steady work-life balance."
Job, Average Salary, Pros
Cost estimator, $62,670: Knowledge of BIM software is a plus as is a bachelor's degree in an industry-related field. Pursuing certification gives an edge to potential hires as well.
Construction manager, $93,900: A job that disproves theories that you can't make a good deal of money in the industry. However, it likely requires a bachelor's degree or an associate's degree with related experience
Plumber, $51,830: Employment expected to boom due to huge number of plumbers expected to retire soon as well as new building construction and increased demand for more efficient plumbing installs.
Glazier, $41,620: Window work requires a non-fear of heights.
Cement mason and concrete finisher, $39,370: Those who pursue masonry-related courses after apprenticeship have best opportunities.
Painter, $38,830: Little experience required but in some areas you could face competition from union workers with apprenticeship training.
Brickmason and blockmason, $50,760: "Older brick buildings will need repair. For these reasons, the BLS predicts employment for brickmasons and blockmasons could balloon 40 percent before 2020."
Electrician, $52,910: The pay is higher but the four-or-five-year apprenticeship and lessons in math, electrical theory, electrical codes and more make for a long training process.
Carpenter, $44,330: "Exposure to all components of a project make them one of the more secure professions within the industry…"
General construction worker, $34,170: Little experience required and a good springboard to higher-paid construction jobs.