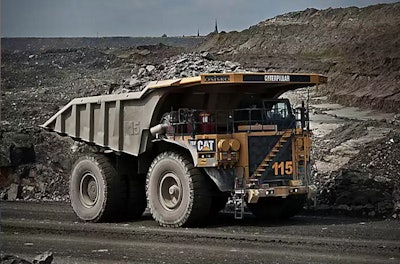 Caterpillar first started internal discussions on autonomous trucks back in 1996, says Jim Hawkins, director of the company's mining technology enabled solutions, "but really we didn't start in earnest until 2012. We really wanted to focus on how to make an autonomous truck outperform a truck with an operator."
Company executives, including Hawkins and Cat group president for resource industries Denise Johnson, followed up a a talk on the company's confidence in the long-term health of the mining industry by sharing details on how the world's top heavy equipment manufacturer is approaching vehicle and machine automation at the MINExpo 2016 show in Las Vegas.
While competitor Volvo CE is already showing off autonomous loader and hauler prototypes, Cat has been much quieter when it comes to machine automation. Since beginning those internal talks in earnest in 2012, the company has partnered with Fortescue Metals Group (FMG), a mining operation in Australia, on studying the effects of truck automation on a working site.
Now, Hawkins says FMG's autonomous trucks can produce 20 percent more than a manned vehicle.
There are 47 Cat 793F autonomous haul trucks around the globe, with many of them at FMG's Solomon site—representing the largest autonomous fleet at one site—handling 70 percent of the production at the mine. Since 2012 and as of this July, the autonomous fleet had hauled more than 200 million metric tons safely.
"The push for automation was first centered around safety," Hawkins says. Today, the value proposition is more about machine utilization and process consistency. "When you only have to stop a machine to fuel or service it, your utilization goes way up."
Unlike the automobile industry, which is adding semi-autonomous features such as object detection to build up to fully-autonomous cars, Cat says it's unbundling what it has learned on the fully autonomous 793F to offer slices of autonomy in other machines.
One such piece will be truck spotting, a feature that Cat will also make available to competitive iron.
The technology will help the haul truck operator know where to exactly position the truck under an excavator for the best loading spot.
"Eventually it will be a stand-alone product, but right now we're leveraging the existing Minestar technology," says Scott McGinnis with Cat's mining solutions group. "In the next generation, which we're expecting in late 2017, we'll have the ability to put it on any machine without using the Cat infrastructure."
Truck spotting will involve a camera and a monitor, plus additional communications on the excavator. The display will show the operator where to spot the truck for best loading results.
Equipment World report further on this coming technology as details are revealed.