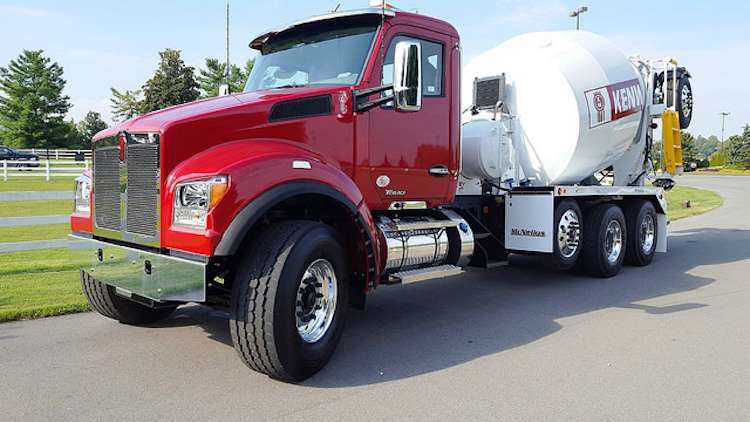 Kenworth is adding a set-forward front axle configuration to its T880 work truck, the company announced Monday at the  National Ready Mix Concrete Association's (NRMCA) ConcreteWorks show.
The new configuration—the T880S—is designed for fleet and truck operators in ready-mix, dump and mobile crane applications.
Jason Skoog, Kenworth assistant general manager for sales and marketing, says the truck is available with a 114-inch BBC and best-in-class 28-inch bumper setting. Tare weight is minimized, he adds, and weight distribution is optimized so the Federal Bridge Formula can easily be met. "Body installations are enhanced," he says.
The bumper setting is especially important in spec'ing Bridge Formula chassis required to stay under the 40-foot length limit. Also offered are 29.5-inch and 31.5-inch bumper settings. Truck operators can specify the mixer tapered (114-inch BBC), dump tapered (115.5-inch BBC) or straight box bumpers (117.5-inch BBC) in a variety of finishes and materials. Removable and cast center-mounted tow hooks are available, depending on bumper selection.
The T880S is available with a set-forward front axle ranging from 14,600 pounds to 22,800 pounds. Single, tandem or tridem drive axles and a wide variety of factory-installed lift axles, are among a range of options available to meet the most demanding jobsite requirements. The T880 and T880S also provide clear back-of-cab options that make it easy to configure the truck body, handle extreme loads and make it easier for body upfitting.
Visibility on the T880S is enhanced with a 3.6-inch lower hood crown than the legacy Kenworth W900S and provides up to four feet of additional ground visibility. Utilizing technology from the proven T880 product line, the newly styled, complex reflector halogen headlight provides projector beam lighting performance without the extra cost, along with a thick, polycarbonate lens and UV inhibitor for long life.
The 5-piece hood is made of RTM, a lightweight high-tech material tougher and more durable than fiberglass. If damaged, the bolt-on fenders typically can be replaced in less than two hours to help maximize uptime and get the truck back on the jobsite. Also available are 2.5-inch and 4.5-inch wide fender extensions that match specified front tire widths and help keep dirt off the side of the truck.
The T880 and T880S are standard with the 12.9-liter Paccar MX-13 engine, which provides up to 500-hp and 1,850 lb-ft of torque. For weight-sensitive applications, the 10.8-liter Paccar MX-11 engine saves 400 pounds compared to a 13-liter engine, and offers an impressive power to weight ratio and low fuel consumption. The Paccar MX-11 with up to 430-hp and 1,550 lb-ft of torque is well-suited for ready-mix trucks.