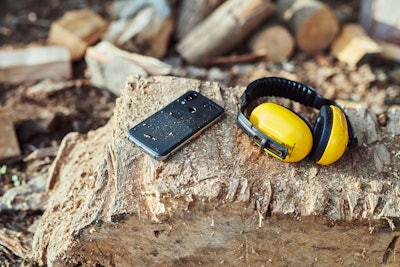 Bullitt
Handling it, you can feel the new Cat S62 phone's military-grade specs. At 9.17 ounces, the phone has heft, but it also has sleekness. This is not a clunky Otterbox designed to protect a fragile core.
In fact, Cat phone licensee Bullitt Group is promoting the S62 as the perfect work-life crossover device. "We want to have devices that work not just on the jobsite but in our everyday lives. That's why the S62 maintains its rugged DNA but comes in a form that's a little more appealing to the prosumer," says Steve Morgan, Bullitt's head of channel marketing.
There are some downsides to factor in before we go further. The S62 is currently only available on T-Mobile and, as with the other Cat phones, it's Android only. It also does not have the FLIR thermal camera, unlike its recently announced S62 Pro. And while it currently does not have 5G capabilities, Bullitt says it's "on the roadmap."
Rugged DNA
As Morgan mentioned, the S62 has some extensive "rugged DNA" claims. "We drop tested this in multiple 6-foot drops onto steel on every side and every corner," he says.
Other toughness factors:
It surpasses IP68 certification, is impervious to dust and is fully waterproof, having been tested at a 5-foot depth for 35 minutes. In fact, you can wash it with soap and water and sanitize it with regular hand wipes or even bleach.
Meeting U.S. military MIL-STD-810H specs, the phone has been tested against thermal shocks, temperatures from -22 degrees to 167 degrees Fahrenheit for up to 30 minutes, tumble and vibration and salt mist.
The 5.7-inch Corning Gorilla Glass 6 touchscreen is scratch- and shatter-resistant and works with wet fingers or when using several types of gloves, a feature available on previous versions.
Certified for use in Class 1, Division 2, Group A-D, T4 hazardous locations (areas where flammable gas or flammable vapor from liquid may be present), is particularly helpful when working in petroleum refineries and gasoline storage and dispensing areas.
Beyond the toughness
Compared with previous Cat phones, the S62 just looks different. "It doesn't have the rubber overmolding or the raised edges, but it's got the same rocket engine," Morgan says.
With a built-in case, the phone avoids some case negatives, he adds. "Cases are great places for germs to hide." Plus, with toughness built into the entire device, you're not just relying on the case for protection.
Another aspect that will be appreciated by many: its 4,000mAh battery can last for up to two days (based on 3G connectivity and subject to usage) before needing a charge. It also supports Qi Wireless Charging, Quick Charge 4.0 and Pogo pins for rapid charges.
The phone also has a loudspeaker and a waterproof USB type C connector on the bottom and a stainless steel surround around. It has a stainless steel SIM micro SD card tray. It also has a 48 MP+ 2 MP rear camera/8 MP front camera with flash, portrait, panorama, beauty modes, along with 4X zoom.
The phone includes a fingerprint sensor for security, login and remote payments. It also has a dedicated programmable side button for push-to-talk capabilities or instant access to the camera, flashlight or another app.
The phone will sell for $498 and be available on June 25th.
Bullitt also teased a Cat flip phone that's "coming up shortly." "We understand and appreciate that flip phones have a definite place in the market," says Morgan.