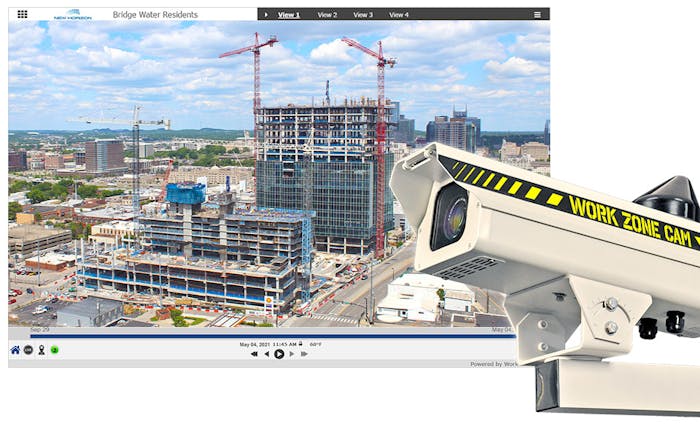 Work Zone Cam
Work Zone Cam's new cameras increase image resolution from 18 to 24 megapixels, which the company says helps track construction progress more accurately and results in 33% higher resolution time lapse videos. .
The company says the new DSLR camera now offers the highest quality image in its category, along with live video burst and full wireless 4G LTE connectivity. 
Using the camera, an unlimited number of AI-edited time-lapse movies with music can be shared at any time during the project lifecycle, says the company. These can be used to provide project updates and/or celebrate project milestones. Also provided is a professionally edited, end-of-project time-lapse video.
The Work Zone Cam Pro includes cross-platform Control Center 8 software from EarthCam to manage all cameras in one place using multi-project dashboards. This makes it easy to share milestones and show progress at set intervals. Control Center 8 also integrates with many construction management platforms, including Procore, Infotech, PlanGrid and Autodesk BIM 360. Project teams can set up automated image uploads to daily logs, RFIs, observations or change events.
Work Zone Cam can be rented or purchased. Solar power is also an option, allowing the use of 200-watt solar panels.