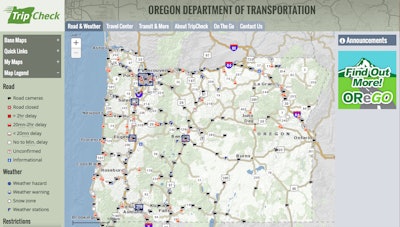 The Oregon Department of Transportation is partnering with crowdsourced navigation app Waze's Connected Citizens Program to add data to its own TripCheck.com traffic tool.
ODOT is the latest in a long line of state DOTs partnering with Waze that includes Alabama, Massachusetts, Louisiana, California, Nebraska, Tennessee, Pennsylvania, Maine, New Hampshire and Vermont.
"We want to take advantage of new ideas and innovative technology that improve safety and reliability for everyone traveling around the state," says ODOT Director Matt Garrett. "TripCheck.com has been a valuable resource for Oregonians for more than a decade, and adding Waze user-generated reports allows us to bypass the process of building and maintaining our own app for crowd-sourced data collection."
"Waze is thrilled to see how ODOT continues to evolve its traffic management through the Waze Connected Citizens Program," says Paige Fitzgerald, Connected Citizens Program Manager at Waze. "By harnessing the power of our crowdsourced traffic information, ODOT is enhancing TripCheck and further optimizing the local driving experience."
More details about the Waze Connected Citizens program are available at https://www.waze.com/ccp. The Waze app is free and available for iOS and Android platforms at http://www.waze.com.