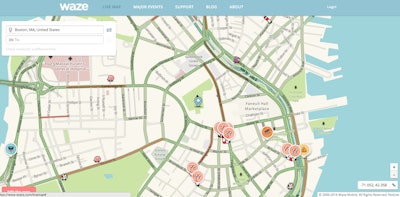 The Massachusetts Department of Transportation (MassDOT) has joined the Connected Citizens Program of crowdsourced navigation app Waze to provide real-time traffic details from across the state.
MassDOT joins several state DOTs in sharing data with Waze, including Louisiana, California, Nebraska, Tennessee, Pennsylvania, Maine, New Hampshire and Vermont.
"Through the use of traffic data, the MassDOT-Waze partnership will assist in making future investments in highway infrastructure projects that will improve driver safety and promote economic development," says MassDOT Secretary & CEO Stephanie Pollack.
Waze will provide MassDOT with user-generated incident and "slow-down" content and the agency will provide real-time government-reported construction, crash and road closure data in return.
The company reports its has more than 709,000 monthly active users in Boston who in total drive roughly 172 million miles per month. Waze also says these users report more than 1 million alerts that include details on potholes, crashes and traffic conditions each month.
"With the addition of MassDOT in the Waze Connected Citizens Program, Waze and MassDOT are empowering Massachusetts drivers with real-time data on changing road conditions and closures directly from MassDOT," says Paige Fitzgerald, Waze Connected Citizens Program Manager. "Building on the success we have had partnering with the City of Boston and other Massachusetts municipalities, Waze is excited to extend this data exchange to MassDOT to further optimize local driving experiences statewide."
More details about the Waze Connected Citizens program are available at https://www.waze.com/ccp. The Waze app is free and available for iOS and Android platforms at http://www.waze.com.