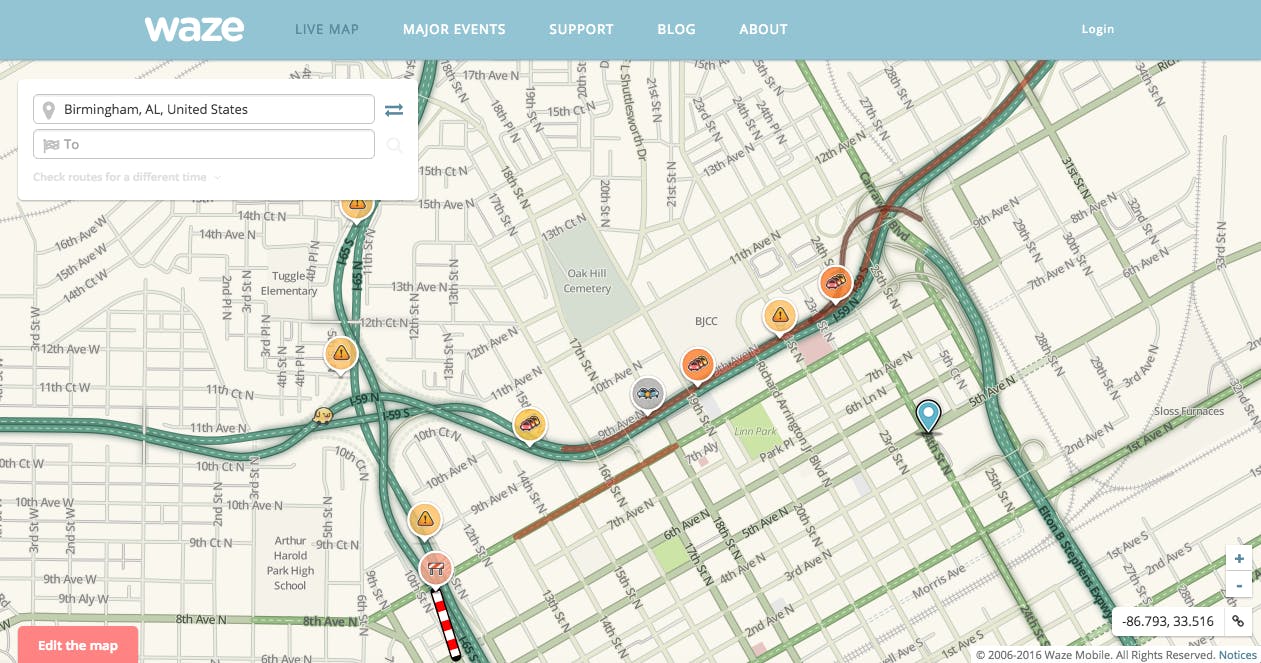 The Alabama Department of Transportation (ALDOT) has joined the Connected Citizens Program of crowdsourced navigation app Waze to provide real-time traffic details from across the state.
ALDOT joins multiple state DOTs in sharing data with Waze, including Massachusetts,  Louisiana,California, Nebraska, Tennessee, Pennsylvania, Maine, New Hampshire and Vermont. ALDOT is the first entity in the state to join the program.
"Waze welcomes ALDOT, our first Alabama partner, to the Connected Citizens Program," says Paige Fitzgerald, Connected Citizens Program Manager at Waze. "No one knows more about what is happening on the roads than Wazers, and ALDOT will be able to use these anonymous insights to further promote safer roads. In exchange, ALDOT is providing critical road closure and incident data to Waze, helping Wazers better circumvent major traffic events and real-time traffic blocks. This exchange empowers our users, ALDOT and the broader community to work together to improve mobility on Alabama roads."
"We are pleased to partner with Waze to gain a deeper understanding of real-time road conditions," says ALDOT's Allison Green. "By integrating the Waze data with our ALGO Traffic website, we can help motorists get where they are going safely and on time. Having the context of why traffic congestion has occurred, in addition to specific incident reports, is invaluable for our traffic incident management team."
Waze's traffic data will be "transparently integrated" into the ALGOTraffic.com website launched in March.  "Waze-generated incident and slow-down information directly from the source: drivers themselves," the company says. "In exchange, ALDOT provides real-time government-reported construction, crash and road closure data to Waze to return one of the most succinct, thorough overviews of current road conditions today."
More details about the Waze Connected Citizens program are available at https://www.waze.com/ccp. The Waze app is free and available for iOS and Android platforms at http://www.waze.com.