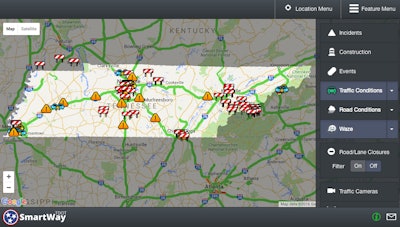 The Tennessee Department of Transportation (TDOT) is partnering with Waze to share data as part of the crowdsourced navigation app's Connected Citizens Program.
This follows similar moves by Pennsylvania in December and Maine, New Hampshire and Vermont in November.
"TDOT is always looking for ways we can provide motorists with information that can make their commutes safer and faster," TDOT Commissioner John Schroer says. "By partnering with Waze, we're doing just that. We've taken our SmartWay website that provides information for motorists on highway incidents, construction activities and traffic information and elevated it's accuracy by allowing Waze users to report issues and concerns they see each day during their commutes. It's a perfect partnership."
Waze traffic information is available on TDOT's SmartWay at www.TNSmartWay.com/Traffic by clicking on the Waze icon in the feature menu. Smartway insights also are available in the Waze app.
"We're excited to be partnering with the Tennessee Department of Transportation", says Paige Fitzgerald, Connected Citizens Program Manager at Waze. "Waze is only as strong as the information it receives from its users. The immense data TDOT can contribute on statewide road conditions, closures and traffic within the Waze app makes them a valued partner moving forward."
TDOT also recently updated SmartWay to show traffic incidents by default, identify lane blockages or full closures with red badges and identify weather conditions with icons to describe snow, hazardous weather, flooding/ponding and storm damage.
More details about the Waze Connected Citizens program is available at https://blog.waze.com/p/connected-citizens.html. The Waze app is free and available for iOS and Android platforms at https://www.waze.com/.