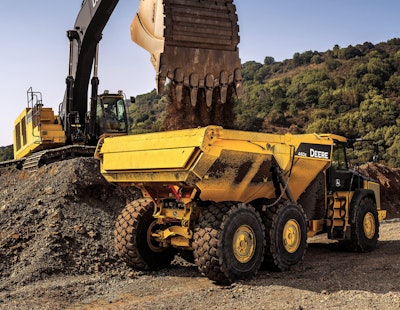 John Deere has launched a new service called Connected Support, allowing its network of dealers to proactively provide service and support on the company's machines.
Using JDLink telematics, Deere says its dealers will have the ability to remotely monitor machines on customer jobsites and "act quickly to avoid or reduce machine downtime."
The new service is an expansion on a concept the company launched back at ConExpo 2017 called the Machine Health Monitoring Center. Like Connected Support, the Machine Health Monitoring Center (MHMC) could remotely monitor machines and diagnose current or pending issues with a machine.
However, the MHMC is a single "triage center," as Deere called it at the time, located in Dubuque, Iowa. With Connected Support, Deere will be able to bring remote monitoring to dealers all across the country and due to the closer proximity, will be able to act on the telematics information more swiftly.
Connected Support consists of two tools for dealers: Service ADVISOR Remote and Expert Alerts.
Service ADVISOR allows dealers to remotely diagnose and repair problems. The tool allows dealers to "analyze conditions in real time, or set a trigger point to record intermittent conditions, providing a deep look into the machine's health," and all without needing to visit the machine, Deere says.
Expert Alerts uses the MHMC in Dubuque to analyze machine data across the entire Deere fleet to identify emerging trends. Using that data, Deere dealers and technicians then come to a customer's jobsite to make necessary fixes when problems are spotted with a particular customer's machine. Deere says the data from Expert Alerts also ensures that Deere technicians bring the right part to the jobsite on the first visit.
To learn more about Connected Support, contact your local John Deere dealer.