While there are encouraging signs for U.S. infrastructure spending, Sam Allen, chair and CEO of John Deere, says any initiatives will take time to reach contractors, in remarks made during ConExpo. "Meanwhile, 70 percent of state infrastructure ballot initiatives were approved last year, and in some cases, the impact of those initiatives will last decades," Allen says. Deere expects a modest growth in construction sales this year.
John Deere's construction equipment lineup now covers 98 percent of the construction industry, adds Max Guinn, president of John Deere Construction & Forestry. In addition, 74 percent of Deere dealers have either upgraded or built new facilities in the past two years. "Our dealers have stepped up," he says.
Deere has established a Machine Health Monitoring Center at its Dubuque, Iowa, plant. Using the telematics data coming from machines, Deere envisions this as a "triage center, looking at impending issues and solving problems before customers are aware of them," says Jena Holtberg-Benge, director, John Deere WorkSight. "This central command will look at the big picture, identifying trends, so dealers can address issues before downtime occurs," she says.
Show intros, Big Parts Promise
Deere focused on production class machine debuts at ConExpo, and along with the new machines detailed below, introduced what it's calling its Big Parts Promise. The program guarantees that if a participating dealer does not get a critical, quickly installed part to customers by the end of the business day, the parts are free. This would include starters, alternators, injectors, turbos, relays, hydraulic hoses and water pumps. Additionally, major components – engines, axles, transmissions, pumps, motors, valves and final drives — are guaranteed to arrive the next business day or freight is free.
Deere introduced several new products during the show. We reported on the new 844K-III back in January and we'll have dedicated reports for the new artics and 950K soon:
♦ The 26-ton 260E and 31-ton 310E articulated dump trucks have new cabs, frames and axles compared to their D-Series predecessors. Powered by a 9-liter Deere PowerTech engine, the artics feature purpose-built ZF transmissions and a 125 percent increase in retardation capacity.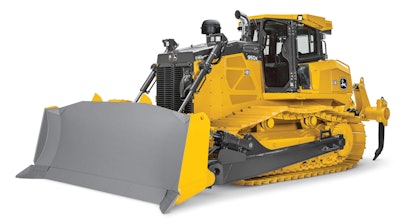 ♦ The 950K dozer with a six-way power-angle-tilt blade, the first on the market on a production class machine, according to the company. Aimed at applications in the road building, site development and energy sectors, the 265-horsepower 950K uses a hydrostatic powertrain to get 15 percent more power to the ground than a conventional torque-converter powertrain, Deere says.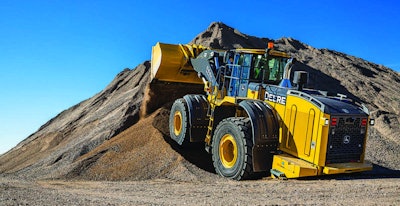 ♦ And Deere has added the 844K-III and 844K-III Aggregate Handler to its wheel loader lineup. The Aggregate Handler can load out 24 tons of non-heaping, lower-density processed material in two passes into on-road dump trucks. The 844K-III is powered by a 380-horsepower 13,5-liter John Deere PowerTech diesel engine; the Aggregate Handler version is rated at 401 horsepower.