Brush cutters and mulchers
By Amy Materson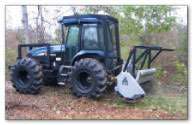 HEAVY DUTY HEAD
Handle a range of mulching applications with FAE's DT line of PTO tractor mounted forestry super duty heads, including the UML/DT 200, with a 79-inch cutting width, and the UML/DT 225, with an 89-inch cutting width.
• Fixed tooth drum has double carbide teeth
• Mulch up to 20 inches in diameter, 2 inches deep
• Double side transmission mulches difficult material.
Visit EquipmentWorld.com/info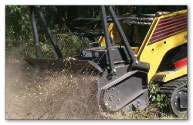 CLEAR AWAY
Shred 8-inch-diameter trees, brush and other vegetation with Bradco's Magnum land clearing mulcher from Paladin Construction Group.
• Available in 36-, 60- and 72-inch widths
• Suits carriers including excavators, skid steers and compact track loaders
• Fixed hammers hold a variety of carbide single, double, claw and
reversible teeth configurations.
Visit EquipmentWorld.com/info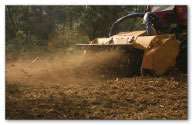 MIDSIZE MULCHER
Seppi M's Starforst forestry mulcher delivers high performance in a midsize unit.
• Midrange unit is larger than Seppi's Midiforst dt, but weighs less than the Superforst
• Suitable for tractors up to 252 horsepower
• Aggressive unit offers strong mulching power while retaining maneuverability.
Visit EquipmentWorld.com/info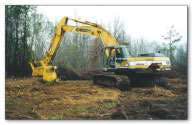 ATTACHES EASILY
Sneller Machine's self powered brush and tree removal attachment mounts to either an excavator or compact track loader with no modifications to the carrier.
• Has triple sealed bearings and carbide teeth
• Engine provides direct power to the cutting head
• Available with a Cummings QSB 275 horsepower, 170 horsepower or Caterpillar C2.2 engine.
Visit EquipmentWorld.com/info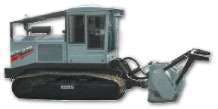 COOL CUTTER
Experience high performance in a compact size from Bron's 275 mulcher, which offers a low 3.5-psi ground pressure rating.
• Caterpillar C7 engine produces 275 horsepower for fine mulching
• Two units are transportable on one flatbed
• Features a climate controlled cab.
Visit EquipmentWorld.com/info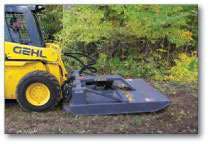 STUMP JUMPER
Handle heavy weeds, undergrowth, brush and saplings up to 3 inches in diameter with CE Attachments' Edge rotary mower.
• Available in 60- to 90-inch widths for standard or high flow hydraulic systems
• Direct drive hydraulic mower requires 14 to 40 gpm
• Has ¼-inch steel deck and heavy duty stump jumper for rough terrain.
Visit EquipmentWorld.com/info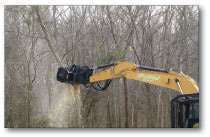 CUT IT OUT
Cut, chip and mulch brush and trees with ProGrind's excavator mounted Pro Head grinder, which can handle any terrain.
• Uses a 440-horsepower Caterpillar C-13 engine
• Cutter head position can be changed while the unit is in operation
• A rotator for the cutter head is also available.
Visit EquipmentWorld.com/info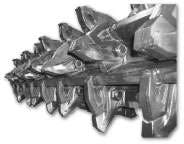 EXTREME EFFICIENCY
Fecon's Bull Hog mulching attachments now feature the HDT Rotor System, which has a stronger tool holder design and a staggered tool pattern to boost cutting efficiency.
• New tool bodies have more efficient shape than previous designs
• Step-tool pattern available on some models
• Multiple tool options – three carbide, a knife tool or combination of tools.
Visit EquipmentWorld.com/info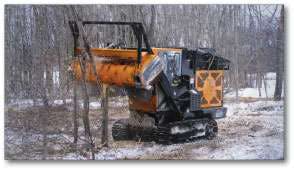 BOOST PRODUCTIVITY
Handle high production land clearing with Bandit Industries' Model 3500 forestry mower, which features a high capacity hydrostatic hydraulic system that boosts torque and power.
• Steel track undercarriage equipped with three-speed drive – low speed,
high speed and creep
• 74-inch-wide mower has 36 carbide teeth and 8-foot mulching height
• Carbide splitter type teeth grind both brush and trees.
Visit EquipmentWorld.com/info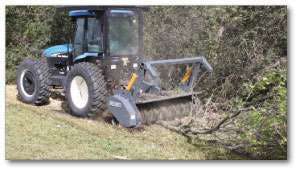 EXTREME DUTY MACHINE
Loftness' Tree Hammer 360 can be front or rear mounted on 80- to 160-horsepower tractors.
• Features an 80-inch cutting width and 24 7-pound hammers
• Optional rear mulching door and tree pusher bar enables mulching large standing trees
• Optional shear bar allows finer mulch production and prevents jamming in the cutting chamber.
Visit EquipmentWorld.com/info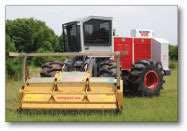 HEAVY BRUSH HANDLER
Perform a range of heavy brush cutting applications with Kershaw's Klearway 500, which features a 202-horsepower Caterpillar C6.6 engine.
• Use the rotary twin disc mower or interchangeable mulcher and shredder attachments
• Load sensing joystick control allows precise control of lift and tilt features
• Heavy duty hydraulic cooler with hydraulic fan increases performance and simplifies maintenance.
Visit EquipmentWorld.com/info
COST-EFFECTIVE CHIPPER
Process brushy tops, limbs and whole trees with Morbark's 40/36 Whole Tree Chipper.
• Equipped with the same internal drive as Morbark's horizontal grinders
• Low fuel consumption per ton produced
• Easily transportable at 8 feet, 6 inches wide.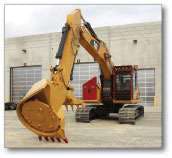 POWERFUL PERFORMANCE
Eliminate the need for expensive, heavy power boosters with Advanced Forest Equipment's high performance mulching attachment.
• Available in four different models for 7- to 20-metric-ton excavators
• Has Rotary Disc Mulching technology that transfers maximum power using carrier's existing hydraulics
• Handles material up to 20 inches in diameter.
Visit EquipmentWorld.com/info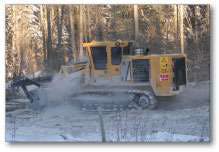 MULCH MORE
Perform large scale landclearing and ROW projects with Tigercat's 480, a 500-horsepower class track mulcher.
• Has narrow overall width and light footprint for soft soil
• Closed loop track drive system and dedicated pump
• High lift boom geometry improves performance on uneven terrain.
Visit EquipmentWorld.com/info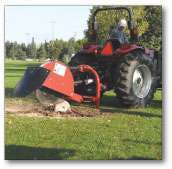 STUMP SLAYER
Shaver's StumpBuster is available in either skid steer- or tractor-mounted models.
• Grind stumps to mulch in minutes
• Easy to manuever in compact areas
• StumpBusters are powerful and durable.
Visit EquipmentWorld.com/info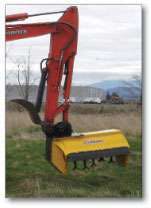 SIMPLIFY SHREDDING
Convert a backhoe or excavator into a brush shredding machine with US Mower's Samurai brush shredders.
• Cut and mulch trees up to 4 inches in diameter
• Features either two- or three- blade cutter shaft configuration
• Manufactured from high strength Domex steel with a powder coated finiish
Visit EquipmentWorld.com/info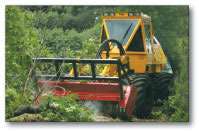 SMOOTH RIDE
Clear brush and trees up to 12 inches in diameter with the Geo-Boy Brush Cutter from Jarraff Industries, which handles difficult terrain.
• Features ability to lift the cutter head 11 feet high
• Has 220- and 260-horsepower engine options
• Low center of gravity provides a smooth ride.
Visit EquipmentWorld.com/info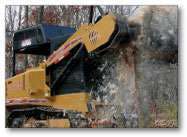 CUT AND CLEAR
Pair Rayco's Predator PM638 mulching head with the C100 Super Crawler to clear everything in your path.
• The PM638 has 38 fixed teeth and clears everything in a 6-foot path
• The C100 features steel tracks and is powered by a 99.2-horse power Kubota turbo diesel
• Rayco's Super Flow closed loop hydraulic system produces 39 gpm at 5,500 psi.
Visit EquipmentWorld.com/info