Four fundamental fixes equals more work, less spending, longer tool life
(Sponsored Information)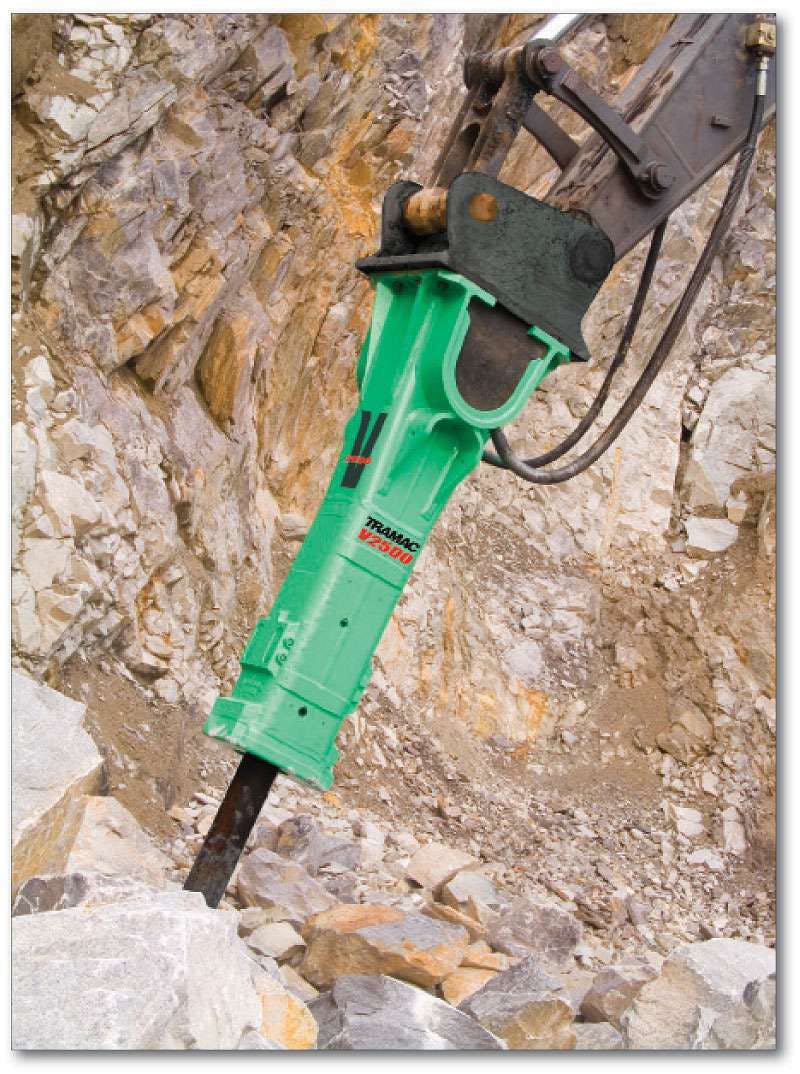 Today's economic realities now demand using every trick of the trade in order to make equipment last longer while squeezing excess expenses – including constantly purchasing new tools – out of the balance sheet.
Service professionals know the dirty secret: saying proper, by-the-book maintenance is a priority is a lot different than actually doing it right and making a difference in the life of your equipment.
Take breakers as an example. To Jerry R. Fifer, technical support manager southeast for Tramac, the most common maintenance gaffes that cost companies both in tool wear and big money for replacements come down to four basics:
1) All grease is the same, right?
The fault: breaker tools or points become extremely hot (as high as 400 degrees Fahrenheit or more) when in use. At those temperatures, kiss standard lube grease goodbye: it will liquefy and run off the tool or actually burn up entirely. You're left with a shorter lifespan for your tools' bushings and broken tools.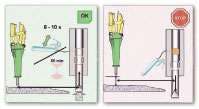 The fix: Spring for the good grease. Breaker grease should be, at minimum, No. 2 lithium-based grease containing 3 percent molybdenum, which helps the grease stick to the tool and not run off. It should be rated to work at temperatures of at least 500 degrees Fahrenheit or more.
2) Where do I grease it?
The fault: You may have the best grease, but failing to put enough on and applying it in the wrong way can be just as bad as using low-quality product.
The fix: Start with a quick examination. When the breaker is raised vertically off the ground, the tool will drop down and expose the portion that is in contact with the lower tool bushing. The condition of this exposed portion is indicative of the condition of the upper, unexposed sections. The exposed portion should be thoroughly covered with grease.
But how to apply it? Use an automatic greaser (if available) and set it to apply grease only when the breaker is operating. If the automatic greaser runs while the breaker tool has dropped down (see above) grease will be deposited on the top of the tool. Then the next time you use the breaker the grease (now trapped between the top of the breaker tool and the bottom of the strike piston) will be forced through the lower piston seals and damage them. If applying lubricant manually, the tool must be pushed upward into the breaker before greasing. This is easy to do by lowering the breaker vertically and pressing the tool against the ground.
The bottom line: using the proper amount of high-quality grease and putting it on the right way greatly reduces the friction wear on the tool and tool bushings.
3) When is it time to inspect?
The fault: Tool tops not checked regularly lead to more damage overall.
The fix: The top of the tool takes a tremendous beating from the strike piston. Eventually, the tool top's surface will mushroom just like the top of a mechanic's cold chisel or punch. It is important that the mushrooming areas be filed off before they become so large that they break off. Broken pieces of the tool can get trapped between the tool and the strike piston, resulting in piston damage. Also be sure to check for damage on the areas of the tool that strike the tool retainers. Any mushrooming or other faults must be filed off regularly.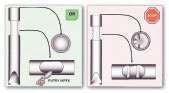 An important reminder: Different types of breaker applications will result in more or less tool damage. Inspect and service the tool once a week until experience teaches you how long your service intervals can be.
4) When do I replace the bushings?
The fault: Wear limits on bushings are routinely misjudged, resulting in piston damage and shortened lifespan on other parts.
The fix: All breaker tool bushings have a specified inner diameter wear limit. When this limit is reached most bushings appear to have plenty of material left to wear off and are usually not replaced as recommended. But the key is to remember that the wear limit is not based on how much material is left but on the possible angle of engagement between the tool and strike piston. The lower bushing will be the first to wear out. If it is allowed to wear past the limit, the tool can be at such an angle to the piston that the piston only hits the tool on the edge of the strike surface. Continuing to operate the breaker in this way will damage the strike piston. In addition, wear on the upper bushing is accelerated by replacing the lower bushing when the wear limit is reached.
So why risk down time, lost job opportunities and uncontrolled spending to replace worn equipment? Spend a little time and money on the simple fundamentals and the results can pay off for a long time to come. EW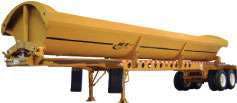 Trailer's design improves stability
Jet Company's side dump trailer has a trunnion-mounted, inverted cylinder design that delivers a controlled dump cycle and improved trailer stability. Pivot geometry works to maintain a more consistent tub speed throughout the dump cycle, decreasing tub acceleration while increasing trailer stability. The unit also has a rounded tub, no inside divider and greaseless pivots.
Visit EquipmentWorld.com/info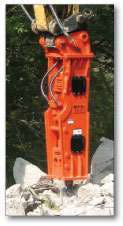 Hammer's design reduces impact vibration
Improve operator comfort and minimize machine wear with NPK Construction Equipment's GH-10 hydraulic hammer, which has a shock absorbing mounting bracket with heavy duty rubber mounts. The GH-10 has a 4,200-pound working weight and an impact energy class of 4,000 foot-pounds, and is suited for 23- to 33-ton carriers. The hammer features an internal drain system for increased seal life and bottom tie rod nuts for easier serviceability. The hammer bracket has an enclosed bottom to protect the hammer and tool assembly.
Visit EquipmentWorld.com/info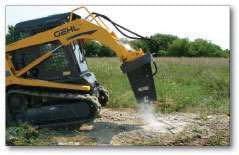 Breaker available in a range of impact classes
Tackle tough demolition tasks with Edge hydraulic breakers from CEAttachments, which suit compact excavators and skid steers and are available in impact classes ranging from 150 to 1,500 foot-pounds. A large diameter piston provides high impact energy, and large reverse taper CD threads offer greater surface contact and add strength. Excavator models include a working tool bit, and skid steer models have a moil point tool, universal skid steer mount and flat-faced couplers.
Visit EquipmentWorld.com/info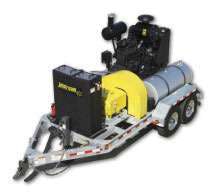 Water tank system transitions easily between pressure settings
JetStream's X-Series water tank system has the Guardian Filter System to eliminate unnecessary wear. X-Series 110- to 500-horsepower models have rotomolded 100-gallon tanks and dual-replaceable filters that automatically keep dirt and other contaminants out of the filter. The water tank systems use JetStream's UNx fluid system for quick, easy transitions between 10,000-, 20,000- and 40,000-psi operating pressures. The unit's low center of gravity and front-of-frame tank allow for improved towing and steering.
Visit EquipmentWorld.com/info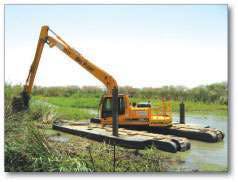 Floating excavator operates in open water
Perform vegetation removal and industrial pond cleaning applications in marshland, shallow water areas and soft ground with Remu's Big Float. The pontoon structure, which narrows to ensure easy transport, can be equipped with additional pontoons and anchoring legs for operation in depths to nearly 30 feet.
Visit EquipmentWorld.com/info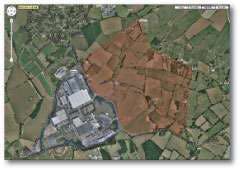 Improve productivity with jobsite solution
Analyze your overall construction operations with Trimble's Construction Manager version 2.5, a remote solution that saves time and helps eliminate unnecessary project costs. The system allows the user to create an unlimited number of multi-sided polygon sites to manage equipment site entries and exits, on-site usage and productivity reporting. Enhanced CAD support ensures fast and accurate map overlays.
Visit EquipmentWorld.com/info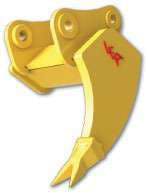 Rip flat walls with offset ripper
Leading Edge Attachments' Offset Single Pointed Ripper rips a variety of material including rock and asphalt. The ripper focuses the carrier's breakout force on one tooth offset to the side of the stick, enabling the operator to rip a side wall flat. A short shank increases breakout force, while the offset design ensures a clean wall. The ripper fits backhoes and excavators from 6,000 to 300,000 pounds.
Visit EquipmentWorld.com/info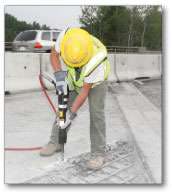 Rivet busters perform concrete breaking and metal cutting
Handle concrete demolition applications with Chicago Pneumatic's CP 4608 and CP 4611 rivet busters. Delivering 8- and 11-inch tool strokes, respectively, the rivet busters feature low frequency blow with hitting power equivalent to a paving breaker at twice the weight. Both models require 45 cfm of air for operation, and are available with either a D-handle inside trigger or pistol grip external trigger. The Controlled Power System prevents blank firing when a unit's bumpers are worn out. A stepped piston and bridge cylinder prevents accidental ejection of the piston if the retainer is removed during operation.
Visit EquipmentWorld.com/info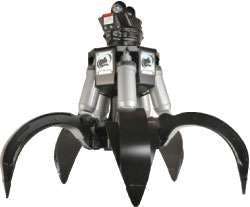 Grapple tackles range of tasks
Perform demolition work, material compaction, grinder feeding and more, with Rotobec's Power Attachment grapple. Multiple jaw configurations include rake/rake, rake/bucket and bucket/bucket. Continuous positioned rotation minimizes the excavator's movement, reduces fuel consumption and lowers maintenance costs
Visit EquipmentWorld.com/info
Trailers offer greater capacity
Landoll has redesigned their 400 Series Traveling Axle trailers with additional frame strength and capacity. The tandem axle Model 440 has a frame rating of 40 tons while the triple axle Model 455 offers a 55-ton capacity. The 400 Series also offers a standard centralized grease system and a high visibility decal package for night work.
Visit EquipmentWorld.com/info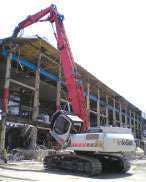 High reach machine handles tall demolition tasks
Demolish tall structures with Link-Belt's 460 LX high reach demolition machine, which can reach up to 96 feet and carry up to 5,000-pound work tools. An optional second member boom can be mounted in straight or curved configurations for working at ground level. A laminated front windshield and FOPS Level II cab guarding provides protection for the operator.
Visit EquipmentWorld.com/info
Pulverizers handle demolition, secondary reduction and  material separation
Combine powerful crushing forces with short cycle times with Atlas Copco's DP 2000 and BP 2900 hydraulic pulverizer demolition attachments. The DP 2000 delivers 292 tons of maximum cutting force and 94 tons of crushing force at the jaw tip, while the BP 2900 bulk pulverizer offers 399 tons of cutting force and 125 tons of crushing force. Useful for concrete and rebar demolition and separation, the attachments are suitable for carriers in the 39,000- to 59,500-pound range and the 55,000- to 77,000-pound range, respectively. Both models feature fast cycle rates for opening and closing, and easy-to-replace wear parts. One oil manifold plate in the slewing gear replaces hydraulic hoses and prevents leaks.
Visit EquipmentWorld.com/info