Pull-behind scrapers
By Amy Materson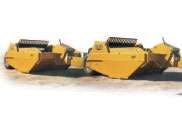 CONTROL THE CUT
Icon Industries' 821 pull-type scraper includes an Operator Reference Control Gauge that controls the cutting bit and front load gate for precision depths.
• Capacity of 21 cubic yards, transport width of less than 12 feet
• Features a quick-attach 360-degree cast hitch
• Swingwall ensures rapid ejection.
Visit EquipmentWorld.com/info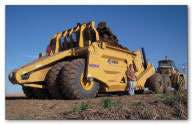 MOVE MOUNTAINS
Reduce dirt moving costs with K-Tec Earthmovers' 1254 ADT scraper, which has a 54-cubic-yard heaped capacity and 49,000-pound empty tare weight.
• Designed to be pulled with a 6-wheel-drive, 40-plus-ton ADT
• Works well as a haul wagon when paired with an excavator
• Large target area makes for fast and easy loading.
Visit EquipmentWorld.com/info
LIGHT DUTY LEVELER
Designed for easy transport between jobsites, Double D Manufacturing's light duty leveling scraper is available in 10- or 12-foot-width models.
• Tilt ability allows for GPS or laser installation
• Standard replaceable side cutter blades and cutting edges
• Features adjustable steel clevis hitch, removable tongue and GPS or laser adapter plate.
Visit EquipmentWorld.com/info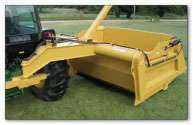 EASY EJECTION
Improve ejection of sticky soils with Hoelscher's 5-cubic-yard heaped capacity FE Scraper, which has a wide opening apron and tilting ejector plate.
• Six-inch cutting edges adjust for straight or stinger configuration
• Reversible and replaceable router bits
• Trunnion-style hitch enables maneuverability while increasing traction and reducing drag.
Visit EquipmentWorld.com/info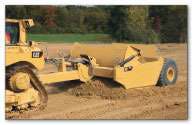 DURABLE DESIGN
Easily accommodate different soils with Caterpillar's TS225 towed scraper, with rear cylinders that allow the operator to adjust the cutting edge angle.
• Four-rear-wheel scraper has 23.5-cubic-yard capacity
• Bowl floor's box-section design resists top loading stress and delivers structural rigidity
• Features dry-disc brakes, abrasion-resistant steel, heavy duty wheel hubs and radial tires.
Visit EquipmentWorld.com/info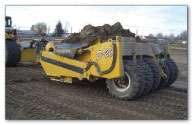 FAST MOVER
Miskin's D-26 scraper has Cushion-Ride suspension, which allows high speed travel and protects the unit in rough terrain.
• Has a 26-yard capacity and a 14-foot cutting width
• Features oil-filled hubs, larger hitch and bigger pins
• Easy-access grease banks and replaceable bushings simplify maintenance.
Visit EquipmentWorld.com/info
SCRAPE AND HAUL
Haul efficiently with Humdinger Equipment's H619G scraper, which features a 19-cubic-yard capacity and is suitable for a range of tractors.
• Has a 130-inch cut width and 12-inch cut depth; 62-inch apron opening
• Three reversible cutting edges and reversible router bits are heat treated
• Tail ejector eliminates slab guards.
Visit EquipmentWorld.com/info
BUILDUP BUSTER
Tackle tough material with Ashland Earthmovers' CS18-HD carry-all scraper, designed for 325-horsepower and up tractors.
• Has 18-cubic-yard capacity; 12-foot-wide cut
• Long rolling radius improves flotation and lowers ground pressure
• 22-inch clearance between front section and the ground eliminates buildup and dragging.
Visit EquipmentWorld.com/info
See our digital edition for more pull-behind scrapers from Ashland Earthmovers, Caterpillar, Humdinger Equipment and Miskin.