Dwayne F. Bell, Adam C. Lasarsky, David S. Sherrill
Statesville, NC
Splitting a well-established family company three ways was the impetus the firm needed to blossom.
By Amy Materson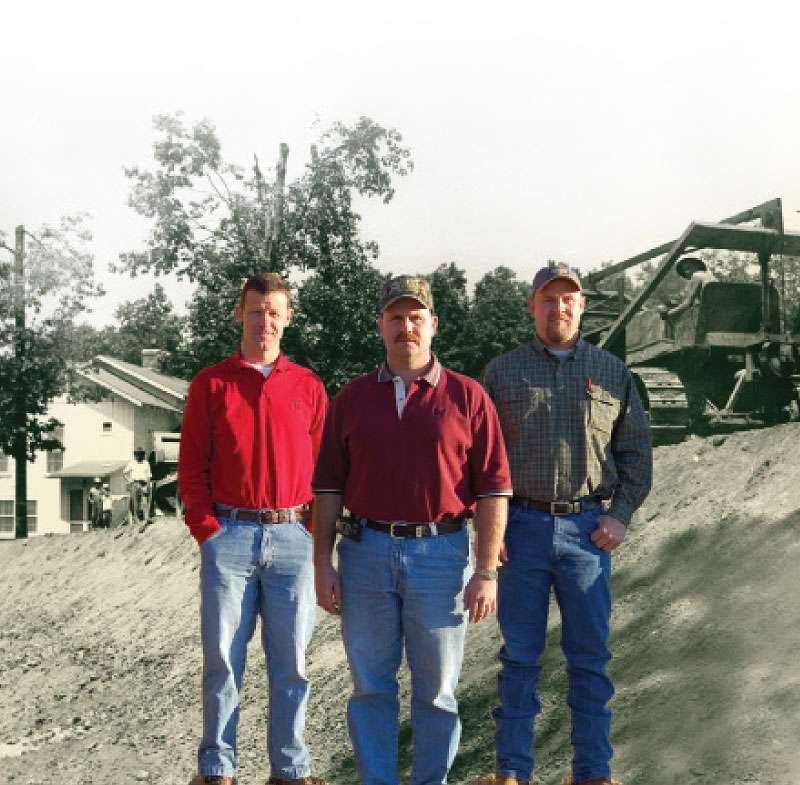 As a young man, Dwayne Bell knew what he wanted to do with his life. He felt he had a calling – and that calling didn't include entering into the family construction business. Although Dwayne had worked part time for Bell Construction, formed in 1946 and run by his father and uncle, he enrolled in seminary school in Texas. But that route wasn't meant to be. His father became seriously ill, and Dwayne returned home to North Carolina and began working for the family business.
He never looked back, and in 1995, Dwayne assumed responsibility for the day-to-day operations of the company. At that time, Bell had $1.7 million in annual revenues and took on primarily small retail and residential projects. Today, the company handles a range of projects including subdivisions, road upgrades, municipal utility work and turnkey site development, with more than $7 million in revenues.
Division of labor
Once Dwayne was in control, he wasted little time in employing a rather unusual management style. Over the course of several years, Dwayne brought on two additional shareholders. Though Dwayne is the majority shareholder, each man shares equal control of the company with him. In doing so, he chose individuals he felt could uniquely contribute to the firm's success.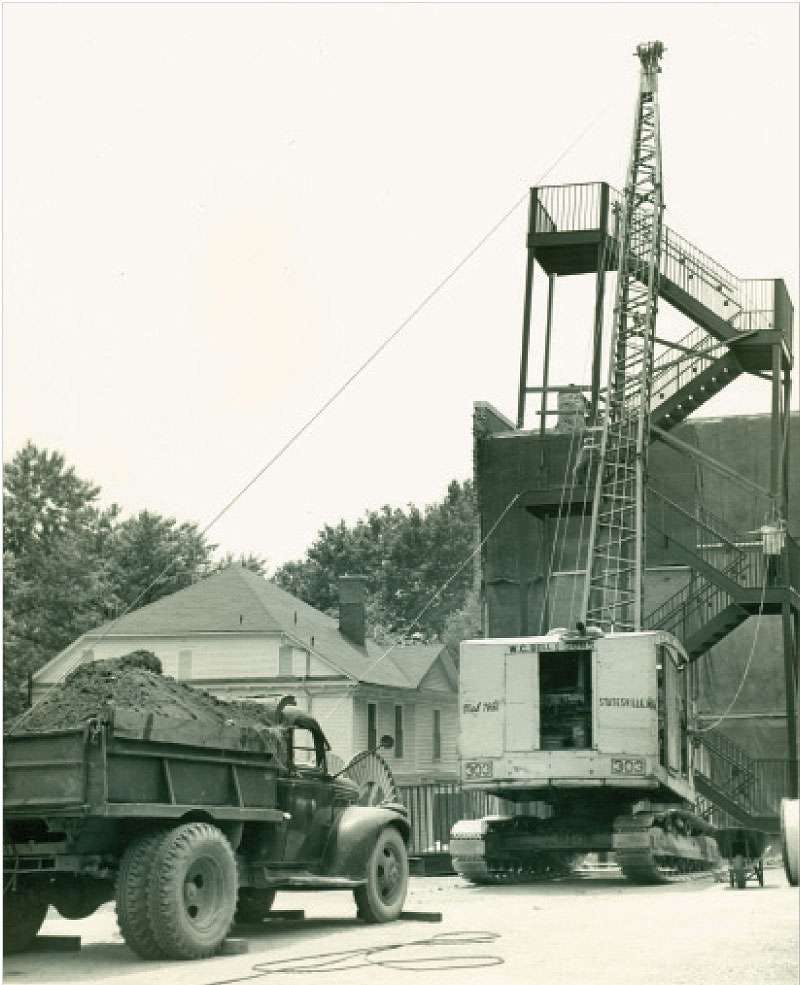 In 1997, Dwayne brought his brother-in-law, Adam Lasarsky, on board. Adam, an engineer, handles the firm's estimating and jobsite billing and took care of much of the field layout for a number of years. In 1999, David Sherrill became a shareholder. David was a longtime friend of Dwayne's – they even sing in a Southern gospel quartet together. He supervises the shop and is responsible for all maintenance and equipment. Under his guidance, 98 percent of machine repairs are conducted at Bell's shop.
Dwayne oversees general operation and takes care of all the scheduling in the field. "We typically run five crews," he says. "I still pull levers, though. I'm not afraid to get in the ditch."
Finding flexibility
Under the stewardship of the three men, the firm has achieved a managed level of growth. "We try to stay within a 40-mile radius of the shop," Dwayne says. "I'm resistant to sending guys out overnight." In 2003, the company built a new 2,000-square-foot office. Bell also has a 6,000-square-foot shop with a full wash bay.
Their success hasn't come without their share of ups and downs. The Statesville area has been susceptible to the recession in the past, as well as in today's market. Dwayne points out that 2002 was more difficult in some ways than today. "We fought like the dickens in 2002 and did what we could to survive," he says. "There are days when you just want to throw your hands up, but you hit it head on."
Adam sees a combination of good client relations and creative pricing as critical in difficult times. "You need good relationships in this economy," he says. "We do a lot of bid work, and you have to be able to get the job and still be profitable." Adam also understands the client must be successful and profitable as well. With that in mind, Bell brought in an on-staff surveyor, Robert Sherrill. Having Robert on staff eliminates wait time for a surveyor and cuts down on change orders and time delays created by design flaws or pre-existing conditions.
Having well-maintained equipment doesn't hurt, either. David, along with Scott Sherrill, maintains Bell's entire fleet in-house, and does whatever is needed to minimize potential breakdowns. "Our stuff is in good shape," he says, "and we don't have a lot of equipment downtime."
Being able to take advantage of David's expertise enables Bell to purchase a mix of new and used equipment. David is a stickler for preventive maintenance, taking advantage of oil analysis, holding the operators responsible for greasing, fueling and checking fluids and requiring foremen to complete a pre-check sheet each week. Mitch Christenbury, Bell's sales representative at Carolina Cat, says their maintenance program is second to none. "They are phenomenal equipment managers," he says. "Some of their machines are 20 or 30 years old and still run." Although they take care of what they have, Bell has invested heavily in their equipment since the late 1990s.
They're also careful with light equipment, recognizing it as an expense that can get out of hand. Each crew has a locked closet to house light equipment, and only the crew foreman has a key to their room.
Maintaining the ability to take on a variety of projects is also crucial. "We do pretty much anything site work related," Dwayne says. "We sub out paving, and we've used the same subs for years and years. Having a good team and staying loyal to them is important."
Relationship building
The three shareholders take the firm's reputation – both with clients and employees – extremely seriously. Dwayne believes being viewed as a responsible, honest company with impeccable integrity sets them apart from the heavy competition in the area. They always do what they say they are going to do," says Neill Allen with Nickey Construction. "If they tell you something, you can take it to the bank. "They have an outstanding reputation within the community. I've never heard anything bad about them."
Because of the firm's longevity, many of Bell's employees have been with the company for a number of years – including a foreman who has been with the company since 1965. Their workforce is extremely stable. "All the foremen have been here at least 10 years, and no operator has been here less than five years," Dwayne says. "We haven't had anyone leave to go out on their own." For Bell, treating their employees well means giving them a fair wage and exceptional benefits. Although the company only has about 30 employees, their commitment to Bell Construction enables the company to offer a range of services.
Learning curve
It's no accident that Bell Construction began to invest in new technologies and upgraded equipment once Dwayne, Adam and David came on board, and continues to invest in them today. The three share a vision that includes moving forward in both equipment and knowledge. Bell's shareholders take pride in being up-to-date on the latest erosion control measures and becoming educated on how and when to retrofit older machines to lower emissions.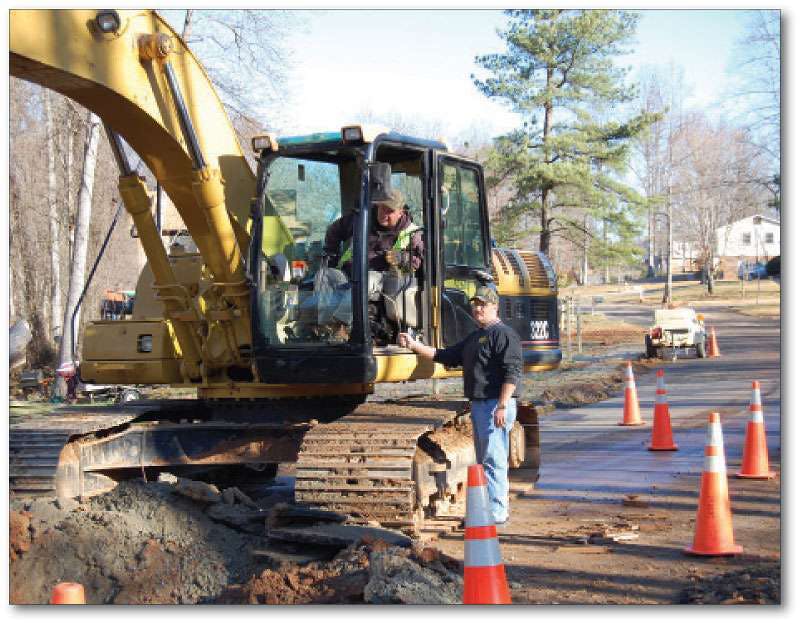 The care and attention to detail extends to safety and training. In addition to the weekly toolbox talks, Adam supervises a "rainy day" safety program. On days when the weather won't allow their employees to work in the field, they'll have an indoor safety training day using their extensive library of safety DVDs. Adam emphasizes shoring and confined space training, and Bell has installed a manhole on-site to practice with.
Like all other facets of Bell Construction, their safety program is a success. Although the three men share equal control of the firm, there's never conflict between them. Although much of the success of the firm could be attributed to the fact that they have similar visions for the future of the company, Dwayne, Adam and David give all the credit to their faith. "We're strong born-again Christians," Dwayne says. "Our faith is really important to us." EW
Bell Construction
Year started: 1946
Annual volume after first year: 1995: $1,737,000
Annual volume today: $7 million
Markets served: Site preparation, municipal utility work and road upgrades.