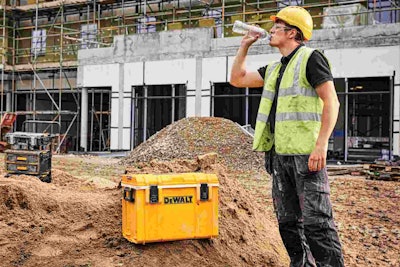 Hydration is one of the most important things you can do to keep your workers going in summer's oppressive heat, and DeWalt's new ToughSystem Cooler offers 27 quarts of storage space and the ability to keep ice for up to five days.
The coolers are IP65 rated for water and dust protection, which keeps your ice and drinks free from job site contamination. And the lid features two cup holders and a bottle opener.
Unlike your generic worksite cooler, the DeWalt ToughSystem Cooler works with all the other products in the ToughSystem lineup. These tool and storage boxes, organizers and totes can be stacked together and secured with side latches and are compatible with the DeWalt ToughSystem Trolley, Van Racking and Workshop Racking systems for security and stability.
The cooler retails for $150.