Like a lot of people, I'm pretty conflicted when it comes to choosing the right case for my smartphone.
If you'd said 10 years ago that a good chunk of the population will put an inordinate amount of thought one or a few times each year into what piece of plastic we wrap around our phones, it would have come off as a little crazy. But in 2018, phone cases are a big business as iPhones and Android devices get more expensive and more fragile each year.
I'd wager just about everyone reading this site requires a highly protective case for their device seeing as how the majority of you are using them on construction sites or in the shop. Right now my case of choice for high protection on my iPhone X is the Vena vArmor. It provides great grip, extra drop protection around the corners and doesn't add a whole lot of bulk for how much protection it provides. Plus it's usually less than $20 on Amazon.
The problem is, you're not always on the jobsite, and sometimes that awesome, drop-proof case and all its heft and bulkiness can feel overkill. That's why I've become a big believer in having a thin case for home and other less volatile environments, and a protective case for when I'm on a jobsite, trade show or heading to the gym.
If you're looking for an ultra-thin case to provide protection from whatever's in your pocket and the surfaces you place your phone on, I highly recommend the Pitaka MagCase.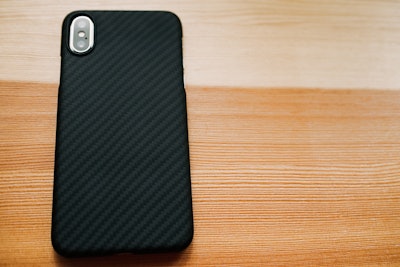 At just 0.65 millimeters, the MagCase is very thin. Pitaka describes the case as being paper-like in its thinness and weight and that's an apt descriptor. It seems like it could be made of a very thin cardboard or even construction paper. But when you feel the case's exterior and look closely at its surface, it's pretty easy to tell that the MagCase is actually made of something much more substantial. Aramid, to be exact.
Aramid is a synthetic fiber known for its strength and resistance to heat. It's used in everything from body armor (Kevlar is a type of aramid.) to aerospace applications, marine vehicles, tennis racket strings, hockey sticks and snowboards. In other words, when you need a lightweight material that can stand up to a lot of abuse, aramid is a great choice.
You can actually see the aramid fiber weave in Pitaka's MagCase design. And beyond it serving as proof for the company's marketing claims, the weave and soft-touch finish of the case provide a really satisfying grip for your phone. That solves a big problem with many ultra-thin cases: they're usually too slick. In the MagCase, Pitaka has delivered one of the best feeling cases on the market, period.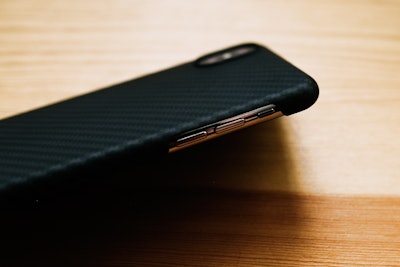 Another big benefit of the MagCase is how it integrates with Pitaka's mounting system. Even though its 0.65 mm thin, Pitaka somehow managed to stuff a couple of metal plates within the MagCase. These allow the case to magnetically mount to Pitaka's MagBar, a modern take on the home key ring, and the MagMount, a minimalist, but sturdy, vehicle mount.
And despite the metal plates, the MagCase still supports wireless charging functionality.
Though the MagCase has a lot of impressive features and strength, Pitaka makes no promises on its ability to protect your device from drops. That's going to be the Achilles heel of any ultra-thin case for the time being, though. But if you're interested in a case that provides ample protection from the occasional knock, or collisions with a pocket knife, tools, keys or anything else you might shove in your pocket, the Pitaka MagCase is more than up for the job while adding the minimum amount of bulk and weight to your device.
You can grab the MagCase on Amazon or on the Pitaka website. It runs $50 and is available for all iPhones from the iPhone 6 and later, Google's Pixel 2 devices and Samsung's Galaxy S8, S9 and Note 8 devices.