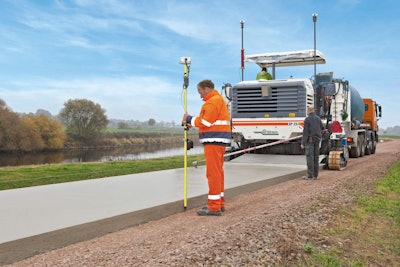 Last week, we told you about Wirtgen receiving an innovation award at the latest Bauma construction equipment show in Munich. We wrote in that post about why Bauma chose to give Wirtgen that award, but today we've got a bit more information about the product itself.
Stringlines have been guiding paving machines for a long time, but Wirtgen has come up with a way to eliminate them using GPS without the trouble of having to make a digital terrain model.
The Wirtgen AutoPilot Field Rover, introduced at Bauma, consists of a computer integrated into the paver, GPS receivers mounted on the machine and a control panel.
The receivers communicate with a GPS reference station on the jobsite. After the section to be paved is measured and staked out, the Field Rover plots the optimum course for the paver, creating a virtual stringline.
The course data is entered onto a USB thumbdrive which is inserted into the machine's control panel so operators don't have to do any manual data entry. When ready, the machine moves forward, adjusting its position and paving heights to match the data from the thumbdrive.
According to the company the price and complexity of the system are much lower than existing 3D systems and do not require specialized survey training for crews and operators.