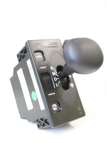 Allison's new 5th Generation electronic controls provide improved fuel economy and will be available to all OEM customers. Designed for easy integration during the vehicle assembly process, the controls feature enhanced programming and a new bump lever selector design. Upgraded Transmission Control Module hardware and software delivers faster, more precise processing capabilities.
The 5th Generation control module features a new embedded inclinometer for enhanced vehicle efficiency in stop-start operations, as well as improving Load Base Shift Scheduling performance via a faster and more accurate automatic selection between economy and performance shift schedules. The controls offer two additional acceleration levels, enabling the operator to improve fuel economy further by controlling engine fueling and moderating aggressive driving practices.
The 5th Generation features will be rolled out throughout 2013. OEMs will be able to confirm availability.