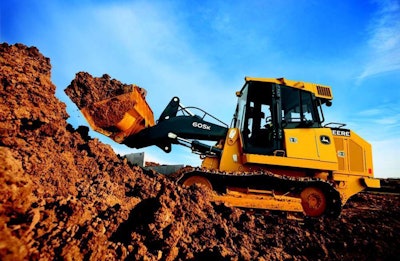 John Deere today announced its new 605K crawler loader. The 605K is powered by a Deere PowerTech 4.5-liter Tier 4 interim Diesel engine with a net horsepower of 110 horsepower at 2,200 rpm.
The 605K also features a hydrostatic transmission which provides infinite speed control, dynamic braking, power management, power turns and counter rotation while staying in gear. The transmission's controls allow operators to choose between the V-pattern or joystick transmission control.
Two bucket options are available: a general purpose bucket or a 4-in-1 multipurpose bucket. The 605K also features a rear ripper for turning materials.
Deere's Quad-Cool system is also featured, isolating coolers from the engine's heat in order to preserve the life of the coolers and increase their efficiency.
The 605K also features a comfortable, quiet cab with larger doors and an air suspension seat. The loader also features a sealed switch model with keyless start and a touchpad security system requires a numeric pass code to prevent unauthorized operation.
An oboard monitor displays temperature, pressure and speed in real time and the 605K is constantly monitoring transmission temperature to avoid overheating and damage to the hydrostatic system.
The 605K is also compatible with John Deere WorkSight for fleet management as wells as the JDLink monitoring service which reports diagnostics in real time to a secure Web page online.