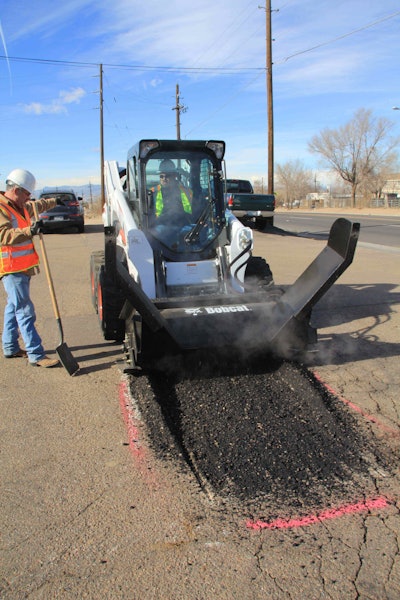 Perform cost-effective asphalt repairs with minimal traffic disruption with Bobcat's Asphalt Preservation Tools system, which saves an average of 60 percent of the costs associated with other asphalt repair methods, according to the company.
The restoration system handles repair work including potholes and surface defects such as cracks, deteriorating surfaces and frost heaves, as well as for driveway, trail and golf cart path reclamation.
The three step process fuses recycled asphalt with surround asphalt seamlessly, without cold joints or repeated treatments. The system includes a 3,760-pound AH30 asphalt heater that has three infrared heating elements able to heat a 30-square-foot repair area to 300 degrees Fahrenheit, and a 995-pound AP40 asphalt processor that mills existing asphalt material up to 45.5 inches wide from 1.5 to 6 inches deep. The heater softens and recycles the asphalt for the milling process, and the processor remixes and levels the rejuvenated asphalt and prepares it for compaction.
The system reduces the consumption of raw material as well as eliminating purchasing, storing and transporting material. The APT system is compatible with the following Bobcat all-wheel steer loaders, skid-steer loaders and track loaders: A300, A770, S300, S750, S770, S850, T300, T320, T750, T770 and T870. The system connects quickly with the Bob-Tach attachment mounting system.