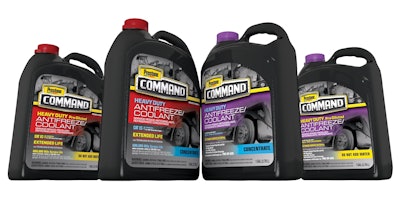 Prestone Products launched a new line of heavy-duty antifreeze/coolant products, Prestone Command, at Heavy-Duty Aftermarket Week, held January 21-24 in Las Vegas. The line, which the company says uses advanced technology, is available in two formulations – Extended Life and Extended Service.
Extended Life provides 600,000-mile/12,000-hour CAT EC-1 protection for any diesel-powered heavy duty engine. The formula protects engine metals from temperature extremes, rust, corrosion, scale and water pump failure, and is compatible with other heavy duty antifreezes and coolants. For top-off applications, a prediluted 50/50 formulation is available.
Extended Service is SCA pre-charged and protects the engine from freezing, overheating, cavitation erosion, scale and foaming in any heavy-duty engine with need-release filter technology used in normal to severe duty cycles and extreme temperatures. For top-off applications, a prediluted 50/50 formulation and demineralized water dilution is available.
Prestone also introduced the Prestone Command Diesel Exhaust Fluid, developed for use in all diesel engines equipped with a selective catalytic reduction system.