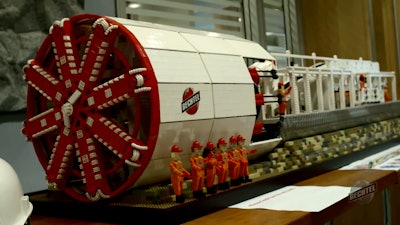 The Lego Movie, which hit theaters this past weekend, is fantastic. But we wish the folks who made it had talked to Bechtel first to include the company's incredible miniature tunnel-boring machine (TBM).
The company commissioned professional Lego builders Bright Bricks who assembled a moving, 6-1/2 foot TBM using 50,000 Lego bricks. Like Big Bertha, the largest and most famous TBM in the world, the Bechtel Lego model's cutting head actually rotates and feeds a conveyor belt for debris inside. Hopefully, Bechtel's miniature is able to avoid Bertha's troubles and stay away from any steel pipes or other debris that might bring it to a halt.
The model was built in celebration of the company's involvement with the First Lego League, an international robotics tournament for students ages 9 to 16 years old. Check out the video of the Lego TBM in action below.
[youtube 2Dh1S4nFp1Y nolink]