The United Kingdom's popular Diggerland Adventure Park—centered around a construction equipment theme—will see a U.S. version.
According to philly.com, Sahara Sam's Oasis, a water park located in West Berlin, New Jersey, will open the new 14-acre park by this summer. Sahara Sam's says it will announce details in a press conference Tuesday.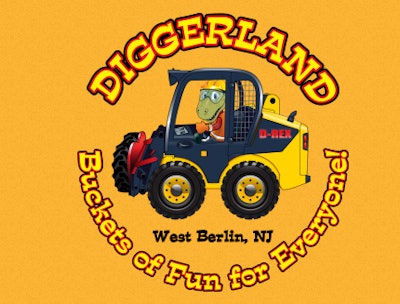 Diggerland Adventure Park, started by the construction rental firm H.E. Services in 2000 and now owned by Allsafety Ltd., has four locations in the UK. There, the parks use primarily JCB backhoes, excavators, and skid steers in a variety of ways.
Park guests operate full size machines in obstacle courses, reminiscent of dealer operator rodeos and construction equipment experiences such as People at Play and Extreme Sandbox.
Machines are also used as rides, such as the Spindizzy, in which an excavator takes a bucket full of people on a 360 degree spin. In addition, the parks promote corporate events, including races that pit backhoe and skid steer operators against each other. New for this year: The Big Digger Experience, featuring a Komatsu PC 210.
According to the philly.com article, when the Diggerland Adventure Park went through township approval in November, Sahara Sam's addressed safety concerns, saying a "site marshall" would be oversee operations and have the ability to override the amusements if needed.
To get insight into what the US park might look like, view the videos below. The first is an ad that plays for the UK parks and the second is a video park visitors viewed in 2011 with rules and safety guidelines.
[youtube BTY1SjU9Jig nolink]
[youtube qpBFhYmwChk nolink]