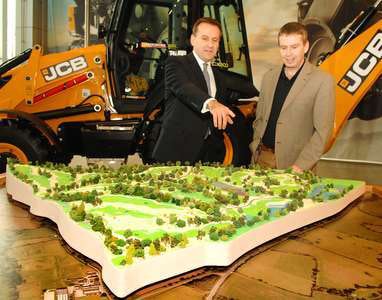 JCB plans to build a championship golf course right in its own back yard.
The $49 million course will be built mainly for the use of the company's network of 770 dealers. It is planned as an 18-hole, Par 72 championship course and will be built on 240 acres to the south of the Rocester headquarters.
In addition to the obvious use for business, the company plans to make "golf days" part of the visitor experience to JCB HQ.
European Golf Design, the company behind host course of the 2010 Ryder Cup at Celtic Manor in Wales, will design JCB's course. The company says it "will be built to tour-quality standard" and could host a major tour event itself one day.
With that possibility in mind, JCB CEO Graeme Macdonald said the course "will be the biggest marketing tool available to JCB in its history."
The course will be built around Woodseat Hall, an 18th Century mansion that is now in ruins. As part of the course development, the mansion will be thoroughly renovated to become the clubhouse with a luxury spa, fitness facility and five-start hotel accommodations for guests of the company.
Of the course design, course architect Robin Hiseman said in a prepared statement that it incorporates "deciduous woodland, classic English farmland and historic parkland with many arboretum-standard specimen trees."
Hiseman continues, saying the course "will twist and turn around the natural contours of the site, dipping in and out of the woodlands and involving the existing water features in a range of exciting ways, including the spectacular and unique Par 3 17th hole, which plays onto an existing wooded island in the South Lake."
The course is the brainchild of JCB Chairman Lord Anthony Bamford and follows a December announcement of the company's $244 million expansion plan that will create 2,500 jobs in the UK.