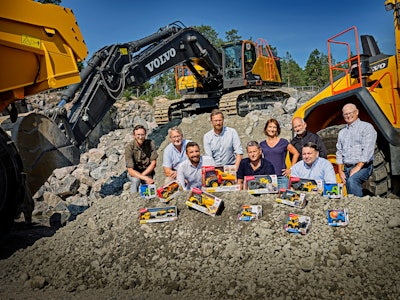 Volvo CE
Volvo Construction Equipment has long been known for its collaboration with toy maker Lego, resulting in Lego wheel loaders, excavators and articulated trucks appearing on gift lists for the past several years.
This time, however, parent Volvo Group is making news with German toymaker Dickie Toys. The Volvo-Dickie partnership, which involves Volvo's excavators, loaders, articulated trucks and over-the-road trucks, resulted in the lineup being in almost every major toy store last year, according to Volvo. The result: more than a million toys sold in the past 12 months.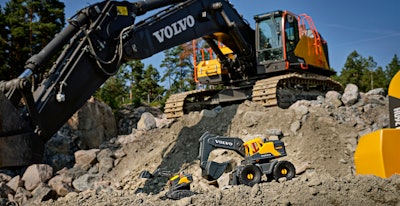 Volvo CE says the Dickie collaboration "represents a unique point" in its licensing journey. Along with Lego, the company previously has formed agreements with toymakers Technic and Bruder. The Dickie venture marks the company's first venture "into fully-immersive play sets" for all ages, according to the company. It also involved Volvo Trucks and Mack Trucks toys with parent Volvo Group.
"We have always been impressed with the 'feel-good factor' of their toys," says Tim Birks, merchandise and licensing manager at Volvo CE. "And it's been comforting to know that these toys have played an important role in keeping children around the world entertained and engaged during some of the hardest months of the pandemic."
Dickie Toys is part of the Simba Dickie Group, one of the top five toy manufacturers in Europe, according to Volvo.
Volvo does not limit its toymaker collaboration to just its current lineup. In 2019, it asked Lego to participate in a concept machine design exercise that resulted in the Volvo ZEUX, a Lego Technic set that lets you build an autonomous wheel loader with a camera boom that resembles a scorpion tail. It was an effort, Volvo said at the time, that lead to a number of what it called "potentially revolutionary patents."
Lego and Volvo then asked Lego hobbyists around the world to come up with their own designs. Entries came from builders ages 14 to 47 all around the world. Judges chose entries based on originality, inspired details and best use of Lego elements.
Winning the contest was 27-year-old Vida András of Transylvania, Romania, with a creation dubbed the "Rottweiler," András' fully autonomous machine featured a pneumatic drill, a dozer and a 3D printer.
For a detailed view of the winning and finalist entries, click here.