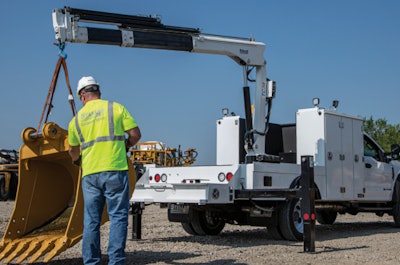 Stellar
Ready for on-demand torch cutting and welding, Stellar Industries' new TMAX 1-11 Welder Body features a 30-inch workbench-bumper with a slide-out tray.
The tray's removable support slats allow for blow-through to the ground, keeping the workspace clean. A 2-inch V channel enables easy clamping of pipes, running the full length of bumper on either side of workbench.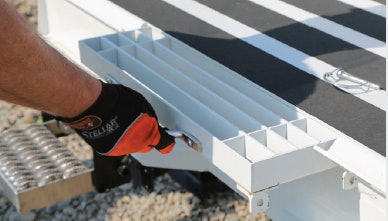 The TMAX 1-11 Welder can be used with any Stellar TC Series cranes, which come with the company's CDT (Crane Dynamics Technology) Remote for easy remote-control operation.
As with all TMAX Series service bodies, the welder body uses stainless-steel billet-style hinges, 3-point stainless steel compression latches and double spring-over-center door closures. It is undercoated for additional corrosion protection; two-part polyurethane enamel paint adds protection and visual appeal.
"Our new body allows for more payload, even with a larger welder and equipment, so customers can be productive," says said Adam Opperman, Stellar product manager.
The welder body comes in several models ranging from 16,000 to 19,500 gross vehicle weight rating. The body is 60 inches high by 133 inches long.