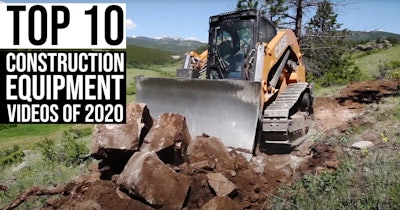 With 2020 drawing to a close, it's time to take a look back at all the construction and heavy equipment videos we've produced in the last year that resonated most with our readers and YouTube subscribers. This ranking reflects the videos and equipment you guys thought was most interesting during 2020 and it was reached through a combination of traffic to the videos through our website and the total view count they received on YouTube.
Check out the top equipment videos of 2020 below. And be sure to subscribe to our newsletter and to the Equipment World YouTube channel so you see our weekly videos as soon as they drop.
---
No. 10: Cat's New D1, D2 and D3 Make Up Revamped Small Dozer Lineup
From July 2020: The Caterpillar small dozer lineup has been rethought. Gone are the D3K2, D4K2 and D5K2 and in their place are the new D1, D2 and D3. We break down the differences between the new machines and their predecessors and discuss Cat's motivation behind the new model names.
---
No. 9: Kubota Shrank a CTL For Its First Mini Skid Steer: The SCL1000
From September 2020: How popular are CTLs? CTLs are so popular that demand is now exploding for tiny CTLs that you stand on—aka, mini skid steers. Kubota took notice and will soon release its first mini skid steer, the SCL1000. In this video we take a deep dive into the design of Kubota's mini skid steer, how it stacks up to the rest of the market and how Kubota has delivered a smart and highly differentiated machine on its very first try.
---
No. 8: Deere's New 333G CTL With SmartGrade Has Dozer Mode and Integrated Grade Control
From May 2020: John Deere's latest dozer isn't technically a dozer at all—it's the 333G compact track loader. Nonetheless, this new 333G configuration features a six-way blade designed by Deere's crawler team, a Dozer Mode control scheme and integrated SmartGrade 3D grade control from the factory. Check out all the details in the video.
---
No. 7: Cat Renamed the D6K2 Dozer to the D4. Here's Why They Did It
From July 2020: The D4 is a new addition to the Caterpillar medium size dozer lineup. But it's not a new machine. It's the new name of the former D6K2. In the video, we break down the reason behind the name change as well has how Cat's new approach to naming dozers is part of a restructuring of the whole dozer lineup.
---
No. 6: Case CE Unveils First Electric Backhoe, the 580 EV, at ConExpo 2020
From March 2020: At ConExpo 2020, Case Construction Equipment unveiled the very first battery-powered electric backhoe loader. Developed under the name "Project Zeus," the loader's model name is the 580 EV. Case says it delivers the same power and performance that you'd expect from a diesel-powered backhoe in a machine that produces zero emissions.
---
No. 5: Bobcat's New 17-ton E165 is its Largest Excavator
From July 2020: Bobcat has introduced its largest excavator yet, the E165. With a few class-leading performance specs to its credit, this new machine continues a confident expansion of the Bobcat excavator lineup into the mid-size excavator market.
---
No. 4: Cat Unveils New 395 Excavator: Bigger, Stronger, Faster 390F Replacement
From March 2020: Bigger isn't always better. But in the case of the new Cat 395, which was unveiled at ConExpo 2020, it definitely is. The new Cat 395 replaces the 390F and is the largest machine in Cat's next generation excavator lineup. This is a beefed-up, performance-driven machine and one that Cat says is designed to move as much rock and dirt as it can in as little time possible.
---
No. 3: Cat Unveils New D7 Dozer: Bigger, Stronger, Smarter
From March 2020: A day before the crowds descended upon ConExpo-Con/Agg 2020 in Las Vegas, Caterpillar unveiled it's all new D7 dozer model. The new D7 packs more power, more weight, and potentially huge productivity gains over its predecessors.
---
No. 2: Bobcat Revamps its Skid Steers and CTLs with new R-Series Machines
From June 2020: Though Bobcat unveiled the very first two machines in its new R-Series generation of skid steers and compact track loaders in late 2019, the majority of these machines were introduced this year. These loaders feature a new structural design with cast steel loader arms that Bobcat says are more durable and more powerful. The loaders also feature a new engine, a new cooling system and a new cab. The video above details the S/T64 models and the S/T66 models, but will give you a good idea of how the majority of the new lineup stacks up. For a video on the S/T76 click here and for the latest loaders to be introduced—the S/T62—click here.
---
No. 1: Case Unveils DL550B: Unique 2-in-1 machine is both small dozer and large CTL
From March 2020: Case's DL550B represents an entirely new machine category—the compact dozer loader—and one that has been several years in the making under the code name Project Minotaur. The DL550B isn't just a compact track loader equipped with a dozer blade. From the undercarriage to a chassis-integrated C-frame, to full machine control support, it was designed to be a true two-in-one machine, capable of both heavy dozing and loading tasks.