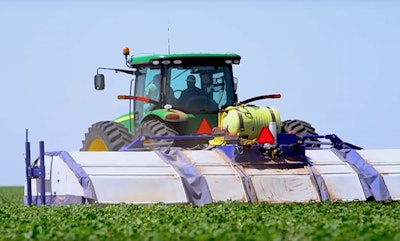 John Deere has agreed to a tech-based acquisition focused on applying machine learning to its agriculture equipment.
The company announced Wednesday evening that it has agreed to buy Sunnyvale, California-based Blue River Technology for $305 million.
Blue River specializes in intelligent crop spraying equipment. This spraying equipment uses "computer vision" to see a crop and machine learning in order to "reduce the use of herbicides by spraying only where weeds are present," according to the Deere news release announcing the deal.
But Deere has more than spraying equipment on its mind with this purchase.
Beyond the fact that this buys the heavy equipment manufacturer a 60-person office in Silicon Valley, Deere says it is confident that the technology can be applied on "a wider range" of products as well.
John May, president of Deere's Agricultural Solutions and the company's Chief Information Officer, called machine learning "an important capability for Deere's future," in a statement. He also likened the acquisition to Deere's 1999 acquisition of NavCom Technology which "established Deere as a leader in the use of GPS technology for agriculture and accelerated machine connectivity and optimization."
"Blue River is advancing precision agriculture by moving farm management decisions from the field level to the plant level," says Jorge Heraud, co-founder and CEO of Blue River Technology. "We are using computer vision, robotics, and machine learning to help smart machines detect, identify, and make management decisions about every single plant in the field."
The deal is expected to close later this month.
It's been a busy year for Deere in terms of deal making. The acquisition of Blue River follows the $5 billion announced acquisition of road construction equipment manufacturer Wirtgen, a deal with Wacker Neuson for distributing Kramer machines to the global ag market, and a deal with Kespry that will make Deere the exclusive global distributor of that company's automated drone solution.