In a surprise announcement during the wee hours of Thursday morning, Deere & Company announced a blockbuster deal to acquire German equipment manufacturer Wirtgen Group.
The two companies have signed a definitive agreement on the all-cash deal which will see Deere purchase the road equipment maker for €4.357 billion. When Wirtgen's debts and other considerations are factored in, the total purchase price jumps to €4.6 billion or ($5.2 billion).
Deere says it plans to fund the acquisition through a combination of cash and debt. The purchase is subject to regulatory approval but Deere expects the transaction to close before the end of 2017.
On news of the deal, Deere & Company stock opened at $125.74 Thursday, up 2.3 percent above Wednesday's close.
The Wirtgen Group's roots stretch back 56 years to the original Wirtgen brand's founding in 1961. But it wasn't until the late 1990s that the company took on its multi-brand identity with the acquisition of Vögele and Hamm. Since then the Wirtgen umbrella has expanded to include five brands with the additions of Kleemann, Benninghoven and Ciber.
Deere, which does not currently manufacture any road building equipment such as pavers and compaction equipment, calls the Wirtgen Group the "leading manufacturer worldwide of road construction equipment," and notes that the acquisition will infuse into Deere & Company five brands that cover a wide range of road construction applications including milling, processing, mixing, paving, compaction and rehabilitation.
The deal will make Deere & Company the first manufacturer to have crushing and screening, as well as mobile equipment, all under one company.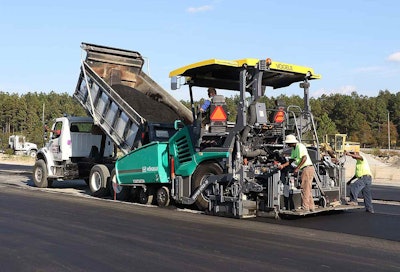 "As we looked to the future, we specifically chose Deere as the buyer because of our long-held respect for the organization and our full confidence that Deere is dedicated to the ongoing success of the Wirtgen Group and our employees worldwide," says Stefan Wirtgen, a managing director for the Wirtgen brand.
"We believe this transaction allows the company to be successful well into the future—independent of our family ownership," added fellow Wirtgen brand managing director Jürgen Wirtgen.
With the acquisition, Deere says it quickly becomes "an industry leader in global road construction" thanks to Wirtgen's footprint in 100 countries and "a large network of company-owned and independent dealers."
"The acquisition of the Wirtgen Group aligns with our long-term strategy to expand in both of John Deere's global growth businesses of agriculture and construction," says Samuel R. Allen, Deere & Company chairman and CEO. "Wirtgen's superb reputation, strong customer relationships and demonstrated financial performance are attractive as we expand the reach of John Deere construction equipment to more customers, markets, and geographies."
Deere says it plans to maintain each of the Wirtgen Group's existing brands along with the group's management, manufacturing footprint, employees and distribution network. Deere says "the combined business is expected to benefit from sharing best practices in distribution, customer support, manufacturing and technology as well as in scale and efficiency of operations."
In addition to instantly making Deere a prominent road construction player, Max Guinn, president of Deere's Construction & Forestry division, says the deal is also a valuable move into emerging markets.
"This transaction enhances our global distribution options in construction equipment and enhances our capabilities in emerging markets. Spending on road construction and transportation projects has grown at a faster rate than the overall construction industry and tends to be less cyclical," Guinn says. "There is recognition globally that infrastructure improvements must be a priority and roads and highways are among the most critical in need of repair and replacement."
This story is developing and we'll have more details throughout the day.