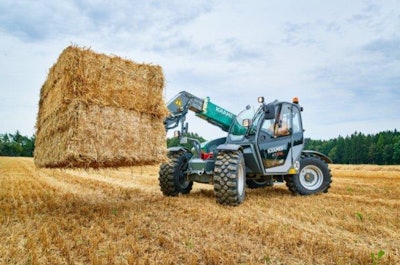 John Deere and Wacker Neuson have announced the formation of a strategic alliance in which Wacker Neuson will begin supplying Deere with compact equipment aimed at agricultural customers.
According to a Wacker Neuson press release, the deal will allow Deere to begin selling Wacker Neuson's Kramer brand of compact equipment at Deere dealerships. The range of machines covered by the deal include the Kramer "green line," built for the agricultural market.
Staring in Europe with plans to expand to the Commonwealth of Independent States, North Africa and the Middle East, Deere will sell Kramer all-wheel-steer wheel loaders, telescopic wheel loaders and telehandlers in addition to a variety of attachments, accessories and spare parts.
Deere does not offer any machines comparable to these Kramer-branded models globally. Deere ag and turf division president for the territory covered under the deal, Markwart von Pentz called the deal "an extremely important strategic move for us."
"Kramer is one of the leading manufacturers of compact wheel loaders and telescopic handlers in Europe," von Pentz says. "…We are confident it will enable us to offer our sales partners in the agricultural sector access to compelling products that perfectly complement our own portfolio. Kramer's loaders are a perfect match, reflecting our commitment to cutting-edge technology and outstanding quality."
News of the deal comes just more than a month after Deere made headlines with another European equipment maker, announcing its acquisition of Wirtgen Group for $5.2 billion. Like the Wacker Neuson deal, the acquisition of road equipment maker Wirtgen brings Deere into an equipment market it has not yet tapped.
Interestingly, there's a further connection between Deere, Wirtgen and Wacker Neuson. In 2015, Wacker Neuson began selling a line of Wacker Neuson-branded soil and asphalt compaction rollers manufactured by Wirtgen company Hamm.
As part of the new deal, Deere plans to become a Kramer shareholder.
"With John Deere, we have secured the global leader in the agricultural sector as a strategic alliance partner," says Wacker Neuson CEO Cem Peksaglam. "This win-win collaboration will support our expansion plans, helping Kramer to expand its position in the agricultural sector even more rapidly. Thanks to the additional business we will grow faster with Kramer, especially in markets where John Deere holds strong market positions."