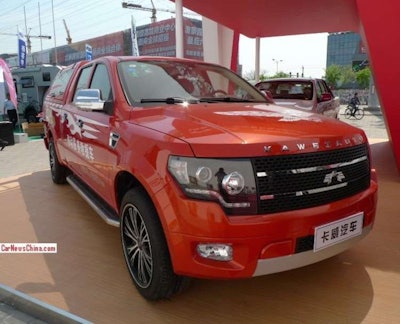 [imagebrowser id=67]
Is this Ford's rumored diesel F-150 project, codenamed "Lion"?
Absolutely not. But it is a diesel pickup that looks an awful lot like an F-150—and it's not a coincidence. Here's what the folks at China's Kawei Auto say in a brochure (seen below) about their new K1 pickup, as first reported by CarNewsChina.
"Stem from the pure blood of US Ford 150, KAWEI K1 Pickup is fashionable and generous."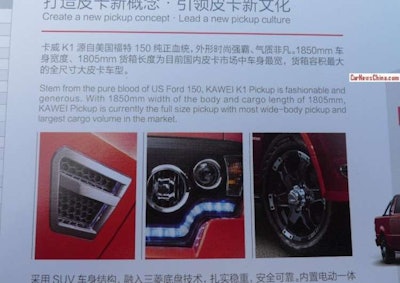 While at the Beijing Auto Show, the site came upon the K1 and asked a staff member with Kawei about the obvious similarities between it and the F-150. Apparently the staffer was very open about the truck's "inspiration" and said "China has to be smart," before pointing to an actual F-150 parked nearby.
The truck has a five-speed manual transmission and is powered by a 3.2-liter six-cylinder diesel with a whopping 107 horsepower and top speed of 74 miles per hour. And if you want a few more horses, you can outfit it with a 2.4-liter four-cylinder gas engine with 143 hp knocking the top speed up 80 mph.
And you get all of that for only $16,000 (100,000 yuan). Kawei Auto built 10,000 of these trucks last year and recently expanded its factory to build 20,000 next year.
Be sure to check out more photos in the gallery above.