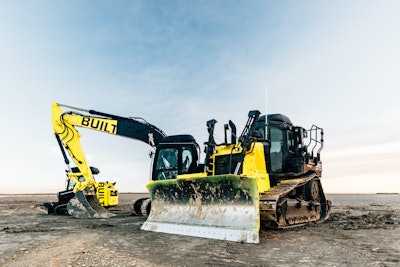 After unveiling a fully autonomous compact track loader in 2017 and proving that the machine could work on jobsites, earthmoving contractors started to reach out to Built Robotics with interest of how the company's technology could make their lives easier.
Built founder and CEO Noah Ready-Campbell says the interest came as a natural point of progression for the company. After raising more money from investors, the San Francisco-based startup started working on developing its technology for larger earthmoving machines.
Developed as an answer to the worsening shortage of skilled equipment operators in the U.S., Built is bringing full machine autonomy to bulldozers and excavators.
"If you unpack the labor shortage is it's a pipeline problem. Guys are retiring as operators and there's not enough new people coming into the industry," Ready-Campbell says. The goal is to build robotic heavy equipment that can handle easier earthmoving tasks, freeing up experienced operators to handle more challenging ones around the jobsite, he says.
"We've got a test fleet now of about eight machines," Ready-Campbell says. "Soon we'll be up to about 10 and that's kind of our R&D fleet."
That R&D fleet is made up of various models from different manufacturers. Rather than partner with one heavy equipment manufacturer or attempt to develop its very own machines, Built's business model will be selling an aftermarket kit that, once installed, can turn just about any modern CTL, dozer, or excavator into an earthmoving robot. You can see the brain of the kit sitting atop each machine in the photos within this post.
"From the very beginning we knew it was critical for our technology to be manufacturer agnostic," Ready-Campbell says. As of right now, Built has identified about 1,000 pieces of heavy equipment in its customers' fleets "that make sense for our technology."
Levels of autonomy
With an aftermarket kit, Built is taking a similar path as companies like Topcon, Trimble and Leica. When asked how much in common Built's fully autonomous system has with something like semi-automatic machine control, Ready-Campbell says while some basic concepts and sensors are shared, "our technology stack and architecture is all custom engineering work."
"If you look at the capabilities of machine control systems, they are an accelerator and they absolutely allow a less-experienced operator to do more," Ready-Campbell says. "But they're still limited."
He mentions the SAE International levels of autonomy, where Level 0 is a regular car and Level 5 is a self-driving car that operates in all conditions as well as a human driver. He says Built views the semi-auto machine control found on today's heavy equipment as being comparable to Level 2 autonomy in the car world, which refers to cars and trucks with adaptive cruise control that both controls acceleration and braking while also providing lane centering.
"We view what we're working on as Levels 4 and 5," he says. Today's semi-auto machine control, Ready-Campbell says, " can help you, but the machine is not going to figure out the overall strategy.
"…Most operators that I've talked to don't use machine control until they get down to finish grade. It's just too slow at moving dirt, so they tend to prefer to go full manual until the end."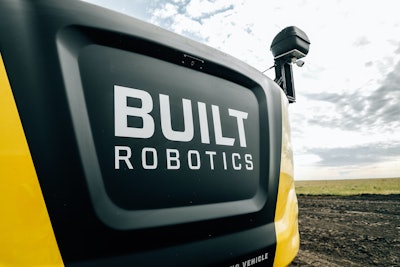 Ready-Campbell draws another distinction between his company and the giants of machine control: Built, with the help of its investors, is doing everything on its own. Without longstanding business relationships and corporate partnerships, Built has had to buy its own machines and figure out how to make its system fit into what engineers at Cat, Komatsu and other companies have already put in place.
"It's definitely harder from a technology standpoint because nobody gives you the blueprint. You just have to tear [into the equipment] and figure it out," he says. "When you're a little company, you don't have this massive business development organization. Nobody knows us. We have to be much more scrappy. We learn a lot about the equipment we buy. We talk to our customers. We go out to dealers and get in and run it, and we have to make decisions about what we want to do. It's a bottom-up approach."
Up to this point, the company has only installed its autonomy kits on machines it owns. But in the coming weeks, Built will do its first kit installation of a machine owned by a customer. "And that's something that's going to be happening more and more though the end of the year," Ready-Campbell says. "And next year is when we're really going to knock it out of the park in terms of deployment."
But how did Built engineers scale up something as tricky as autonomous heavy equipment operation from a compact machine like a CTL up to a large dozer? And what exactly can these unmanned earthmovers carry out? Ready-Campbell walked us through what the company has accomplished in the last 18 months.
Developing a robotic dozer and excavator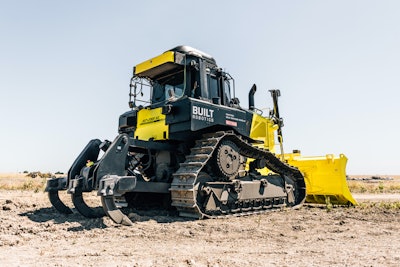 After developing its autonomous CTL, Built turned to the dozer. As the company started developing for larger machines, Ready-Campbell says Built engineers knew they needed to create an autonomous operation system that was above all safe, but also fast enough to be useful in a production environment.
All of Built's machines have a few layers of safety baked in, including the ability to sense and avoid people, animals and other machines. The machines are also contained by a geofence, meaning they won't move beyond a specified work zone. Finally, the machines are always observed by a person equipped with a wireless emergency stop, allowing them to remotely shut off the machine at any time.
Ready-Campbell says Built engineers were able to translate much of the system designed for the CTL to the dozer fairly quickly. However, bringing precise, autonomous control to the excavator proved more challenging.
"When you get into the bigger machines there's just so much more inertia, and that's especially true with the excavator," he says. "In order to make a bucket move in a nice straight line, you need to move all three joints at three synchronized speeds. Getting each of these joints in sync is the challenge."
Despite the inherent differences and challenges between the CTL, dozer and excavator, Ready-Campbell says that much of Built's code written for the respective autonomous systems is shared across all three machines. And because the company started with the CTL—a machine largely seen as a Swiss Army knife of heavy equipment—Built engineers were already familiar with some of the tasks they'd need to program a dozer or excavator to do.
"That was our initial thesis with the CTL. A different attachment equals a different machine," Ready-Campbell says. "[The CTL] almost became a test bed where we could test so many different activities. We put a dozer blade on it, an auger, a trencher, a bucket, forks, everything."
The combination of the CTL's versatility and the amount of interest that has poured in from contractors let the company know it was ready to develop for larger machines.
"What we learned [with the CTL] was that there are specific types of tasks for where our technology is today," Ready-Campbell says. From there, the company's engineers approached both the dozer and excavator with a defined set of tasks that each machine should be able to do on its own.
What they can do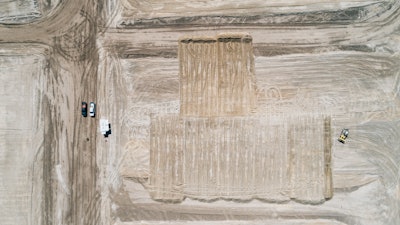 The Built autonomous dozer can handle finish grading, spreading and pushing material, ripping and track walking. On the excavator, the primary jobs are foundation excavation, trenching and loading trucks.
"Those are the main activities where we've gotten some hours in," Ready-Campbell says. "And what stands out is the consistency."
He says that on the most recent finish grading job the company's autonomous dozer did on building pads for homes, the dozers achieved the same amount of graded square footage each and every day. Plus, Built has found across all the projects it has been involved with for testing that its autonomous machines use less fuel than human operators, Ready-Campbell says.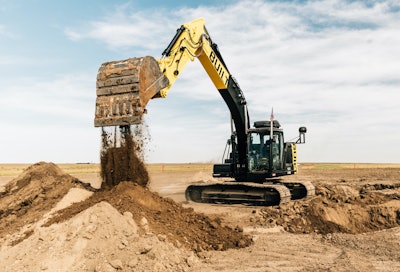 With the dozer and excavator still in the testing phase on customer jobsites, Built is planning to expand the list of supported machines even further with compactors and likely motor graders up next, Ready-Campbell says. Just don't expect jobsites to start crawling with robotic machines anytime soon.
Ready-Campbell says there's at least another year or two for autonomous technology to reach scale on heavy equipment, and even then, he says, the robotic machines won't outnumber their manned counterparts. Instead, you'll have specialized robotic machines performing specific jobs and only in certain situations and environments, Ready-Campbell says.
"Everybody has seen Star Wars and they think you're going to have all these droids running around," he says. "As an engineer, I can tell you that's not how it's going to go down."