Contractors buy compact track loaders because they are flexible machines – adapting to a wide range of applications with the use of specialized attachments – while still being loaders first and foremost.
This emphasis on loading capabilities has prompted, for example, John Deere to up the ante on its G Series CTLs. Deere has increased the breakout force of its two largest models, the 331G and 333G, by 40 percent. Hinge pin height has gone from 127 inches to 132 inches to provide more clearance over 10-foot truck sides. A boom performance package (available in November) features self-levelling of the bucket during both raising and lowering as well as return-to-dig and return-to-carry at the push of a button.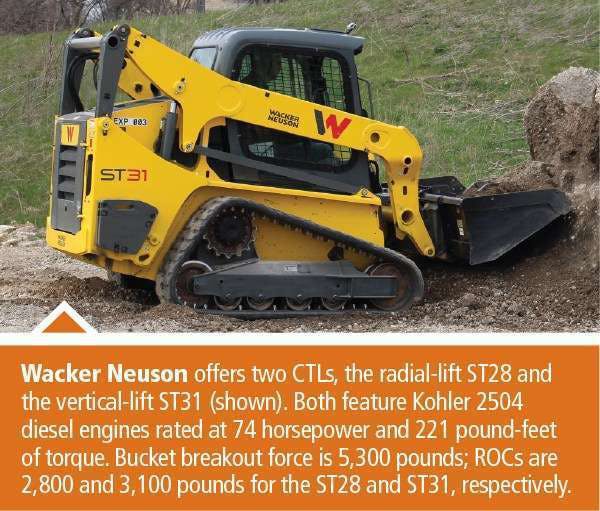 G Series machines feature customizable controls to maximize performance for other tasks. Boom and bucket speeds can be set to three levels and there's a creep mode. By decoupling engine speed from travel speed, full power can be delivered to a power-hungry attachment while maintaining very low ground speed. The joystick performance package offers ISO and H-pattern controls plus foot pedal controls. The foot throttle in joystick-equipped machines can deliver a "burst" of power and can be switched between accelerator and decelerator modes.
Electronics opened the door to endless performance improvements. In a few short years, many have become commonplace, such as work modes and rearview cameras. Caterpillar offers all the usual electronic features plus some that are more custom. The Work Tool Positioner adds a dimension to the "return-to-dig/return-to-carry" mode. The work angle (tilt position) of an attachment can be stored and then accessed by the touch of a button on the joystick. "This provides better control and finish quality in applications where a repetitive tool angle is desired for maximum productivity and consistency," says Kevin Coleman, Cat compact track loader product expert. "Examples include fork operation, trenching, wheel saw cutting/trenching, bucket back drag angle and cold planer/milling. The feature can also help provide increased working life for work tool wear items. For example, a preset optimum broom angle that delivers the appropriate down pressure, which could lower owning and operating costs by minimizing bristle wear."
The Throttle Smoothing feature on a Cat CTL minimizes lurching and bucking when using the foot throttle while traveling over rough terrain. The feature monitors speed change demands from the foot pedal, and when extremes in speed commanded from the throttle are detected, Throttle Smoothing steps in to modulate the response and deliver steady, even travel speeds.
Caterpillar's ride control system is speed sensitive. It activates above a set speed to improve operator comfort and enhance load retention. Drop below that speed and it disengages to maximize digging and load placement performance.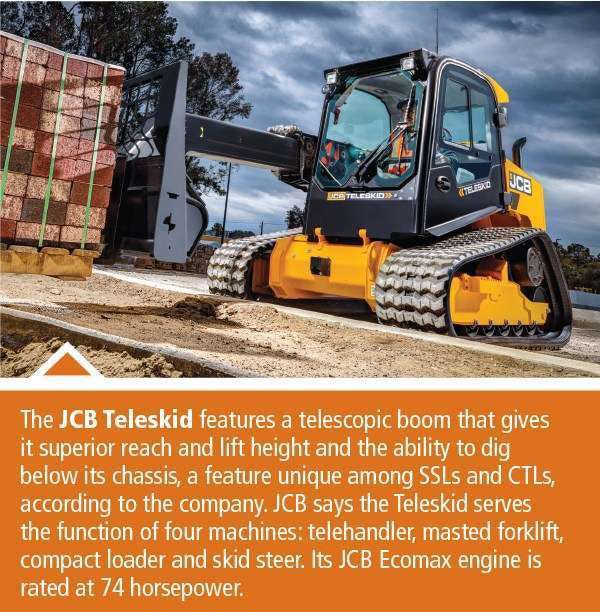 Bobcat's automatic ride control activates after detecting increased hydraulic lift arm pressure at any speed. The system can also be deactivated when hydraulic lift arm pressure is reduced, such as when there is no load in the bucket or when the operator turns off the feature for back-dragging.
For extreme performance demands, JCB offers the Teleskid. With its telescopic boom, the Teleskid provides an 8-foot reach and a lift of over 13 feet. In conventional CTLs, JCB is rolling out two new models, the 210T (radial lift) and 215T (vertical lift), both with 30-gallon-per-minute hydraulic flow. These are at the lower end of mid-ROC machines with sub-10,000-pound operating weights (specs were not finalized by press time). The goal is to run high-demand attachments on smaller machines that better navigate confined worksites.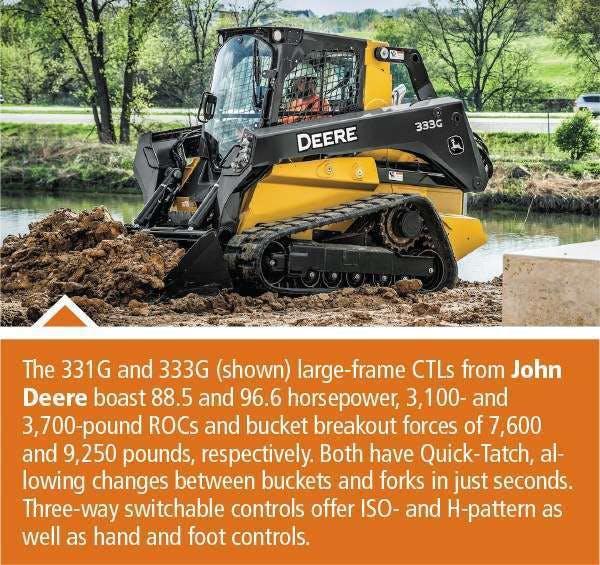 "We're in the midst of a big attachments campaign," says Randy Tinley of JCB, "and we're adding attachments to the 31 we already offer. And we want to offer attachments that fit the unique needs of different geographical areas." Tinley says the company is using focus groups of both JCB customers and owners of other equipment brands to help define those needs.
By the end of the year, Case Construction Equipment will have rolled out a 74-horsepower CTL that has an ROC that's closer to large-capacity CTLs. Staying under 75 horsepower allows Case to use simpler emissions control systems. "With this DOC-only, maintenance-free emissions solution, there are no fluids to add, no regeneration and no filters to maintain," says John Dotto, Case brand marketing manager. "Yet the ROC is comparable to a larger frame machine, and customers receive the greater performance they are demanding."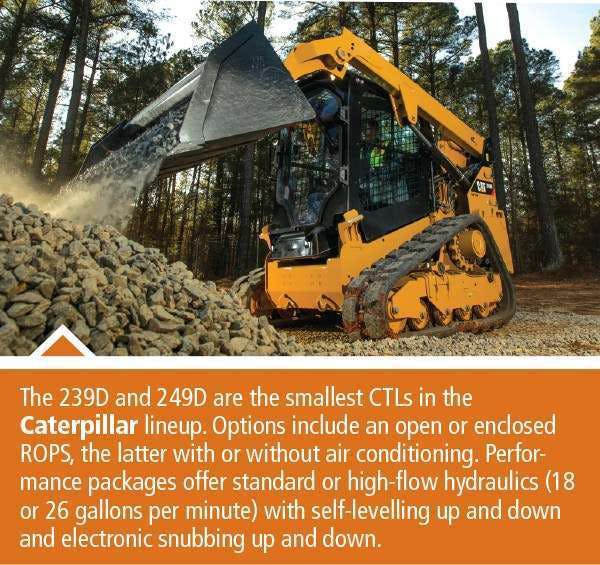 If an OEM already offers a machine with a certain level of performance, why offer another with similar capacities but less horsepower? "It's about giving contractors a choice," says Dotto. "Not everyone needs a high horsepower engine better suited to running high-capacity attachments. Some contractors can get by with a lower horsepower engine that doesn't require higher power, but they need the same rated operating and lifting capacities as higher horsepower machines."
For those who do need high horsepower, OEMs are happy to oblige. The latest iteration of the largest Kubota CTL, the SVL90-2s, saw an increase to 96.4 horsepower from the previous model's 92 horsepower. The SVL90-2s also has a greater ROC (up 150 pounds to 3,200 at 35 percent of tipping load), higher flow volume (up from 33 gallons per minute to 40) and an increase in pressure to 3,555 psi. Five presets match flow to attachments.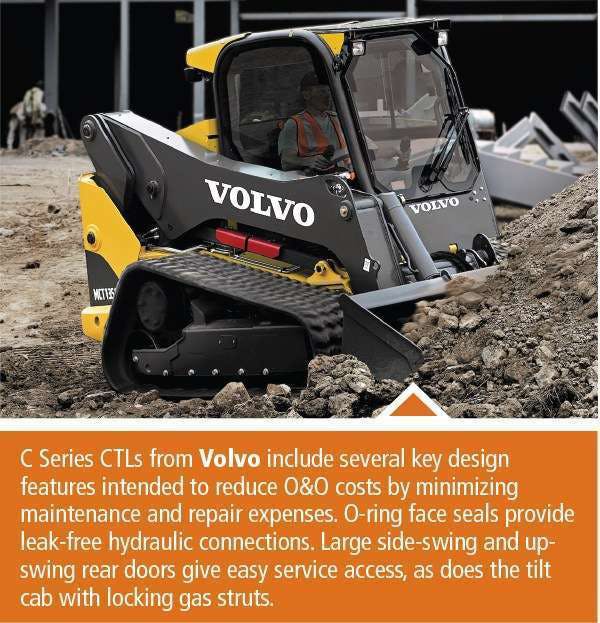 Takeuchi now has two large-frame vertical-lift CTLs, the TL10V2 and the TL12V2. Compared to the previous radial-lift model, the TL12V2 has 38 percent more operating capacity (ROC of 4,107 pounds at 35 percent of tipping load) and a slight bump in horsepower (increased to 111.3 from 109.9). Both the TL12V2 and radial-lift TL12R2 have operator stations that are 4 inches wider, with a canopy or the optional cab.
Controlling costs
Dotto says site conditions and operator habits play a large role in reducing owning and operating costs. "Avoid operation on paved or concrete surfaces," he says. Also keep the site free of common debris, such as broken concrete and pieces of rebar, that damages tracks. Fill curbs and dips with gravel. Keep the undercarriage clean and the tracks properly tensioned. Use gradual turns and avoid counter-rotation if possible. Avoid idling, especially when temperatures dip into the 50s.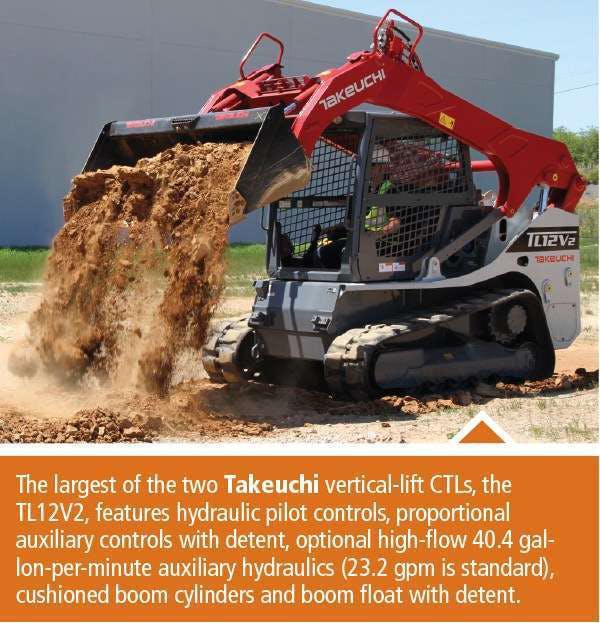 Excessive heat burns money, so keeping machines cool is a good way to reduce O&O costs. ASV tests their machines at 100 percent load for the entire test cycle at up to 118 degrees Fahrenheit. Fan type varies by model size category. Smaller machines (RT-30, RT-50, RT-60) use engine-driven fans. Larger machines (VT-70, RT-75, RT-120) have variable-speed hydraulic fans. The Heavy Duty option on the RT-75 and the Forestry option on the RT-120 add auto-reverse operation to that hydraulic fan. The reverse function can be initiated by timer or by coolant temperature.
Coolers on ASV CTLs are not stacked; the oil and water coolers sit side-by-side at the back of the machine and are accessible through a single service door. The air conditioning condenser is mounted to the cab and is cooled with an electric fan. The charge air cooler is mounted on top of the hood and is cooled by air being drawn into the engine bay.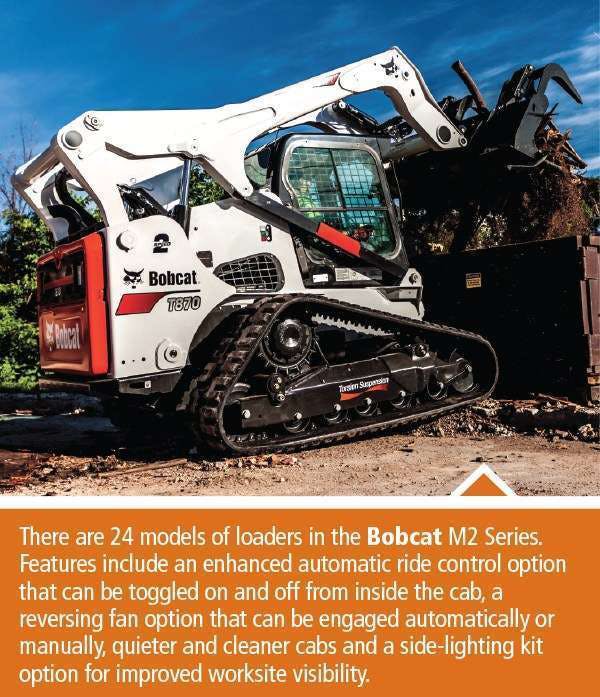 Bobcat Marketing Manager Jason Archbold and Product Specialist Mike Fitzgerald say CTLs amplify operator comfort. Where a typical skid steer loader might see 600 to 800 hours in a year, a CTL may run 1,000 or even 1,200 hours, because it extends the construction season and can work on soft ground. Archbold and Fitzgerald say more machines are being spec'ed with such creature comforts as cabs, air condition, radios and upgraded seating. Some features provide multiple benefits. The new Bobcat T870 features the company's 5-Link torsion suspension. While this provides a smoother ride for the operator, it also improves grading, levelling and carrying performance.
Engines remain status quo
After the huge push to work through Tier 4 and eventually arrive at Tier 4 Final, manufacturers are leaving engines unchanged for the most part. There may be incremental improvements but no major changes for now. "While Yanmar doesn't anticipate any significant engine changes until the next round of emissions standards arrives, we are undergoing continuous analysis and look to improve engine performance and fuel consumption," says Eric Berkhimer, product manager, construction equipment division, Yanmar.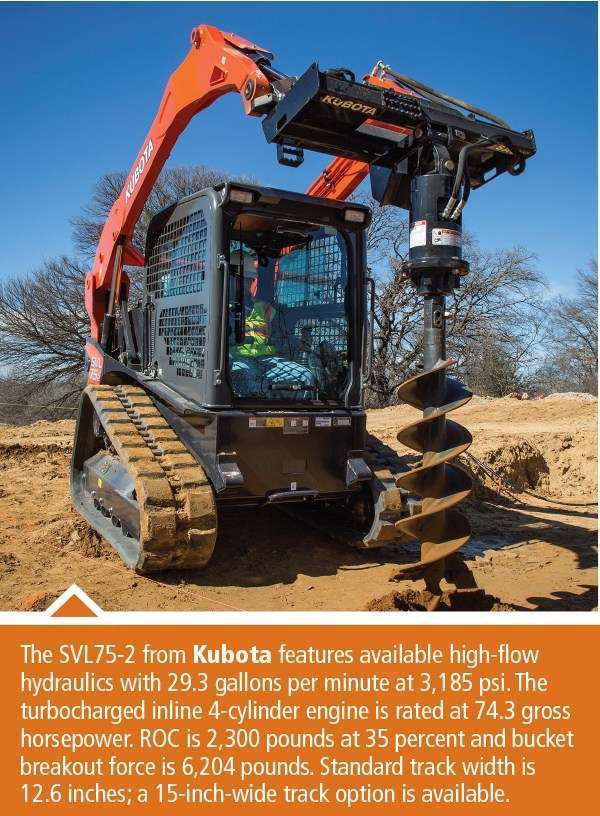 When will that next round of standards roll out? Stage V arrives in Europe in 2019. While there is no word yet on a parallel Tier 5 in the United States, it's assumed there will be a Tier 5 that mimics Stage V in emissions standards and implementation dates.
While manufacturers may not have a Tier 5 program in place, they are anticipating what seems inevitable. "The requirements for the next stage are a little unclear," says Brent Coffey, product manager of loaders at Wacker Neuson, "but the general assumption is that it will likely follow something similar to Stage V in the European Union. For now, the consensus is that the market wants to avoid diesel particulate filters, and we have the goal to accommodate that request as much as possible."
Gregg Zupancic says John Deere's current emissions control architecture may well be all that's required for Tier 5, depending on what Tier 5 entails. "At the very least, what we have now would provide a solid platform for further development."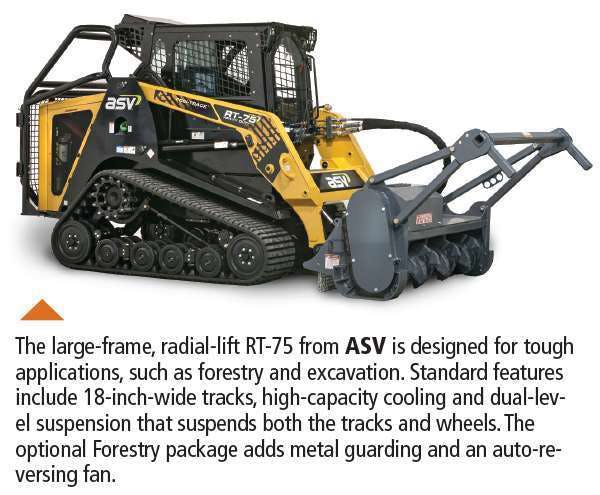 Engine selection is one way OEMs make gains in performance at a time when engine development is taking a break. ASV had Perkins engines on all models, but they've moved to Cummins for their two largest, the RT-75 and RT-120. While this allowed the company to use DOC with no DPF, there were also big gains in performance. The 74-horsepower RT-75 has more torque than its Perkins-powered predecessor and outperforms the old RT-100 Tier 3 machine, ASV says. Minimization of system losses preserves more of the new engines' power. The RT-120 delivers 92 measured horsepower at the head (a mulching head for this test), a 50 percent increase over similarly sized machines from some other manufacturers, according to the company.
Engine development isn't at a standstill. Improvements to fueling architecture and electronic controls allowed New Holland to change their aftertreatment systems as of this year. Their two smaller CTLs, the C227 and C232, both rated at 74 horsepower, now use DOC-only aftertreatment. Their two larger models, the C234 and C238, both rated at 90 horsepower, dropped DOC and instead use cooled EGR and SCR. New Holland says this change is "system simplification" and retains serviceability and reliability with no filters to replace and no regeneration.