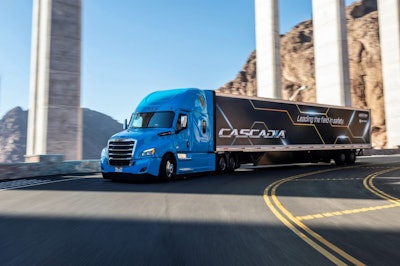 Daimler Trucks North America (DTNA) on Monday introduced updates to Freightliner's flagship Cascadia tractor that will enable SAE Level 2 automated driving.
The announcement was made in Las Vegas during the 2019 Consumer Electronics Show (CES) – historically the domain of cell phone and techie gadget manufacturers that recently has become an emerging trucking show goaded by the advent of electrification and autonomous driving technologies.
With groundwork laid in 2015 when DTNA debuted its Inspiration Truck – the first automated truck to hit the highway – the new 2020 Cascadia becomes the first SAE Level 2 automation-capable truck in series production in North America. Level 2 automation means the truck can accelerate, decelerate and steer independently.
The system uses Detroit Assurance 5.0 Adaptive Cruise Control and Active Lane Assist features to enable automated driving at all speed ranges, a departure from systems currently available that only work above certain speeds.
Freightliner and Detroit's Director of Product Marketing Kelly Gedert says the enhancements made to Detroit Assurance have the potential to make an immediate, measurable and positive impact on overall safety.
"In fact, fleets with trucks equipped with forward collision mitigation systems can experience a 60 to 80 percent reduction in rear-end crashes, resulting in potentially fewer accidents and reduced operational costs to our customers," she says.
According to the National Highway Traffic Safety Administration (NHTSA), 94 percent of crashes are caused by human error.
"Our goal is to evolve automated driving technology that will reduce accidents and save lives," says DTNA CEO Roger Nielsen. "We will deliver tremendous safety benefits for the driver and everybody on the road."
Detroit-supported automation
The autonomous-enabled 2020 Cascadia leans heavily on the Detroit Assurance safety system platform, which is standard on all Cascadia models, and the Detroit powertrain.
"The system is always on and it's always alert," says DTNA Senior Vice President of Engineering and Technology Wilfried Achenbach, who notes the refined Detroit Assurance 5.0 platform has been tested over millions of miles to ensure reliability.
The system's Adaptive Cruise Control to 0 mph improves safety, efficiency and driver comfort by automatically decelerating and accelerating to maintain a safe following distance.
Active Brake Assist 5.0 is the marriage of Detroit Assurance 5.0 camera and radar technology and detects moving pedestrians and cyclists in front of the truck with the capability to deploy full braking – an industry first. It can also detect and mitigate a collision with full braking on moving and stationary objects.
Active Lane Assist – the system that actually enables Level 2 automated driving – consists of Lane Keep Assist and Lane Departure Protection. When Adaptive Cruise Control is enabled, Lane Keep Assist supports the driver by using small steering movements to keep the truck centered in its lane. With Lane Departure Protection, if the truck drifts without the turn signal engaged, the system will counter-steer the tractor back into its lane and give the driver audible and visual warnings.
Optional Side Guard Assist detects objects, including pedestrians and cyclists, in the tractor's passenger-side blind spot and the full 53-foot trailer length – another industry first – and delivers audible and visual warnings.
Detroit Connect Analytics provides fleets with analysis and insights on the performance of the new Detroit Assurance 5.0 safety features, notifying the back office if drivers have their hands off the wheel for longer than 60 seconds.
Aerodynamics and powertrain
Technology isn't the only upgrade to Cascadia models set to enter series production this summer. The new truck also delivers a 35 percent improvement in fuel efficiency when compared to 2007's first-generation Cascadia – an annual savings of up to 4,700 gallons of fuel per truck.
In less than 10 model years, DTNA General Manager for Marketing and Strategy Kary Schaefer notes Cascadia has picked up a 20 percent improvement in fuel efficiency thanks to better aerodynamics and other technologies.
Aerodynamic enhancements for production for next model year include a standard A-pillar deflector that helps slide air more smoothly down the side of the tractor. New tow hook covers improve airflow by reducing the volume of air entering the front of the truck and directing it down the cab. A 167 cc compressor is being replaced by a 156cc compressor to improve operational efficiency.
Aerodynamic Height Control, an industry first optional upfit, electronically lowers suspension height one-inch automatically at 55 mph to optimize airflow over and under the front of the truck to reduce drag and raises the vehicle to its original ride-height at 45 mph. It can be disabled by a switch on the dash.
Optional chassis skirts and side extenders help reduce drag and a redesigned two-piece c-clip reduces vibration that previously caused three-piece clips to loosen.
An optimized roof fairing deflector improves airflow between the top of the truck and trailer and drive wheel fairings close the gap between the tandem tires.
Other enhancements include limited-time exclusive availability of Michelin's X Line D+ Energy tires, which the two companies developed in collaboration to reduce rolling resistance in 6×4 applications, and a low ground clearance bumper.
Cascadia's Integrated Detroit Powertrain now features Intelligent Powertrain Management 6 (IPM6), an enhanced predictive cruise control platform that uses the truck's kinetic energy to automatically adjust braking power while also making transmission and engine adjustments that saving fuel and reduce component wear and tear. Freightliner has also added more than 600,000 miles of road coverage within the IPM6 mapping network, an uptick of about 35 percent.
A new maintenance system platform uses feedback from the truck to determine optimized maintenance intervals. For example, it uses oil temperature data to more accurately determine drain intervals.
"It's not just the new Cascadia's aerodynamic shape, specific options or powertrain components that make it the best – it's that these features are engineered to seamlessly work together," says Schaefer, "and we are the only truck manufacturer to offer that level of integration."
For fuel economy minded fleets, Detroit Connect Analytics will introduce new Intelligent Powertrain Management reporting capabilities with fuel analysis capable of indicating if the vehicle is using Aerodynamic Height Control. Fleet managers will also be able to remotely push software updates to trucks over the road, eliminating the need for the truck to visit an office or dealer.
Detroit Connect will soon rollout third-part application support. An optional 12-inch digital driver display offers vehicle diagnostics can be paired with a 10-inch panel in the B-panel that can serve as housing for third-party apps. A multimedia interface allows the driver to connect their smartphone to the display.
Daimler Trucks North America CEO Roger Nielsen says 2018 was DTNA's best year since it was founded in the early 1960s, adding Freightliner sold more than 110,000 units in the U.S. and Canada – a bump of 26 percent year-over-year. More than 145,000 Cascadia have been ordered since it was refreshed in 2017.
Daimler Trucks sold 500,000 units last year, its strongest year since the company invented the truck in a greenhouse 1896.