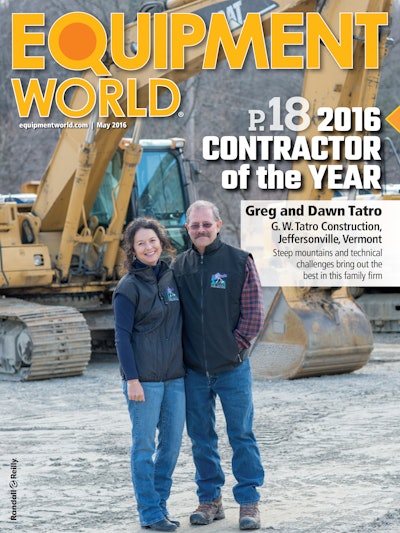 The Equipment World Contractor of the Year contest, which honors 12 finalists each year, is now open for nominations.
Designed to honor contractors who have excelled in their markets, the contest is open to construction firm owners who have been in business 10 years or more, have between $3 million and $15 million in annual revenues and have an excellent safety record.
Each finalist and their guest will receive an expenses-paid weekend in Las Vegas, courtesy of Caterpillar, which has sponsored the program for the past 17 years.
The event includes an industry roundtable, focus group, awards banquet and a day at the Las Vegas Motor Speedway watching the NASCAR Kobalt 400. All finalists will stay at the premier Wynn Resort on the Las Vegas strip.
This year's event has the added bonus of being held during the final two days of ConExpo-Con/Agg 2017, the construction equipment industry's premier trade show, held every three years.
"The Contractor of the Year event was an enormous occasion to be exposed to different ways of thinking, interesting uses of resources and best practices that added new perspective to our own dealings," say this year's winners, Greg and Dawn Tatro, G. W. Tatro Construction, Jeffersonville, Vermont. "The roundtable was a highlight for us, since we felt that not only did we learn from contractors at the table, but also that we were able to contribute ideas that might be appreciated by our peers, as well."
Contractors have until September 30, 2016 to apply to the program. To enter, go to Equipment World's Contractor of the Year page, and click on the "Apply Now" button. You can either enter online with a convenient form or download an application form to print and fill out later.
In addition to the information on the form, you are welcome to submit up to three supporting pieces of information such as newspaper clips, copies of awards or client reference letters. The first 50 applicants will receive a free Cat hat.
Each finalist will be featured in an article in an issue of Equipment World, and the winner of the 2017 contest will be on the May, 2017 cover.