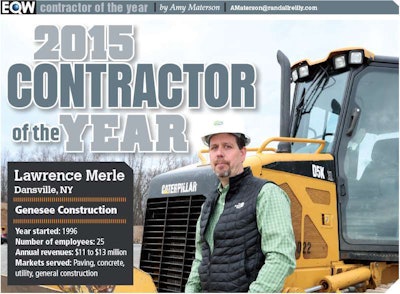 Before taking his first construction job, the only knowledge Larry Merle had of the industry was "Mike Mulligan and His Steam Shovel," a classic children's book his mother shared with him as a child. The story of Mike and his shovel Mary Anne became his favorite, and his mom read it to him every single night at bedtime.
So when he took a summer job in Coalport, South Carolina, working for a construction crew while in college in Greenville, he immediately fell in love with construction, even though he was only making $3.65 per hour.
But even that $3.65 job dried up, so Merle pursued another construction company 75 miles away. After Merle's grandfather found out he was making prevailing wage at $17 an hour on his new job, he was actually upset about the salary—he was afraid Merle would quit school and work construction full time. He stayed in school, however, figuring he could work construction after he graduated, but he would also have his accounting degree to fall back on if necessary. Working as many as 70 hours per week, Merle was able to save enough every summer to pay for college.
Moving north
Falling back on his accounting degree never became necessary. After college, Merle went to work for a large firm in South Carolina, but didn't like the way the company ran its business. He consulted with his wife, Mary Ann – who he swears he didn't marry because she shares a name with Mike Mulligan's steam shovel – and the couple made the decision to move to New York State. They settled in Dansville, an hour south of Rochester, and Merle started work with a site prep contractor.
Almost right away, Merle knew he needed to open his own shop. He approached two potential partners and said, "Why don't we start doing this?" Out of that conversation, Genesee Construction Service was born. Starting as a subcontractor performing mostly small jobs, the company grew to the point where Merle and his partners began to work on projects as a GC as well, and the building side of the business became as large as the site work side.
In 1999, the company reached a crossroads. Merle wanted the capability to build a gymnasium as part of a philanthropic project, but felt it wouldn't be fair to his partners. He told them he wanted to go out on his own, and offered to sell his shares of the business. Instead, they made an arrangement where Merle would take the shares of the business, and the two partners would take the company's equipment and continue with another company. So, Merle and just three employees went to work.
Building a business
On paper, Merle was no more assured of success than any other fledgling start-up. In reality, he knew he possessed the tools to build Genesee into the company it is today.
He knew it wouldn't be easy, so he asked Mary Ann to quit her job and help him. He bought an old excavator at auction, which his wife said was the worst looking piece of equipment in town. "It looked like it had been rolled down a hill and then thrown into a dumpster," he recalls. "But I paid $21,000 for it, put 3,000 hours on it, and then sold it for $17,000."
"It is so freeing to do what's right."
Merle had a strategy in mind. He knew the ins and outs of site prep work, and being both first and last on a jobsite has its advantages. He made the decision to continue operating as a site prep contractor, but to also work a general contractor. It's something Merle says few contractors in the area have been able to accomplish successfully, but the strategy has served Genesee Construction well, enabling the company to take on diverse projects. "Our forte now is fast and furious," he says. "We specialize in unrealistic schedules." He's serious about the meeting budgets, and on the correct timeline. In 15 years, Genesee has never missed a deadline.
Ecstatic clients
The fast-paced attitude, combined with a sterling reputation, works to Genesee's advantage in attracting customers. International Speedway Corporation, the company behind Watkins Glen International Raceway, hired Genesee as a replacement contractor for the racetrack's new Media Center. When Merle agreed to the project, it was three months behind schedule, in the middle of winter, with no design, plans, specifications or drawings. "Genesee was able to pull a rabbit out of their hat by completing the project ahead of schedule," says Paul J. Bellas, senior project manager for International Speedway. "Every original program element was incorporated into the project ahead of schedule. If I could convince Larry to travel, I'd hire Genesee for work at all 12 of our NASCAR facilities."
Genesee was also tapped by Frederick Rainaldi, owner of Rochester-based development firm FJR Associates, to work on a project with substantial challenges. Rainaldi had purchased a World War I armory from the State of New York and wanted to turn it into a mixed-use commercial and retail space. "Larry was able to exceed expectations for the project while retaining the 1916 brick architecture," he says. "The armory had been abandoned for 40 years, so it was a monumental project to do the environmental cleanup and reposturing." A highly technical project, the armory is composed of two buildings with 180,000 square feet that required the installation of more than 550 helicals on the bedrock.
Last fall, the project received an award from the state on the adaptive reuse of the site, and Rainaldi now uses Genesee as his point of contact with even the most sensitive clients. "My clients like Genesee's team members so much they call them directly instead of calling my management team," he says. "They're the most trustworthy contractors I've ever worked with."
Rainaldi says many of the high-end retailers he develops sites for come with built-in contractors, a situation he's been able to start to change. "With Larry, we've managed to take away the interior buildouts," he says. "He's the first contractor able to pull jobs away from them. I would point to him as an example for the industry to follow."
The company now has mix of projects, with 65-percent developer-negotiated work, 10- to 15-percent public work, and small fill-in jobs as the balance. The bulk of Genesee's work is from repeat customers, and Merle says every job he's currently working on is with someone he has had at least a 10-year relationship with. To maintain those relationships, he believes you have to be open, honest, and stand behind your work for the long term. "I have a lifetime warranty on my work – I'd be a fool not to," he says. "It is so freeing to do what's right."
"Hire for character, train for skill"
Genesee's employees love the work, and say Merle is the best contractor to work for in the area, by far. Saying he hires for character and integrity, and trains for skill, Merle has built a workforce he feels is second to none.
"My guys have a tremendous sense of pride," he says. "They'll bring their wives to one of our projects and say to them, 'I did that.'" Brad West, a heavy equipment operator on Genesee's dirt crew, says Merle is the best boss he's ever had. "Larry offers superior pay, benefits, vacation, holidays and bonuses," he says. "Former coworkers will call me and ask, 'Can you get me on with Larry?'" West says Merle sets the bar high, but he's a people person who puts his employees first. "Not only can you go to him with a problem, you can go to him with your ideas," he says. "I wish I'd found Larry earlier."
Another benefit the employees love is the ultra-safe environment on Genesee's jobsites. Dissatisfied with the options available from associations and insurance providers, Merle decided to come up with his own safety program. When he wrote the safety guidelines, Merle included what he felt was the best information from all sources, including from Europe and Australia, countries he says often have more stringent guidelines than U.S.-based programs. He implemented a safety award, and has also instituted a program that tracks near misses – not to place blame, but to educate.
Two-way loyalty
He asks his employees to present a professional, dedicated image – providing them with clothing that helps them adhere to a standard of dress – and he also requests they refrain from using profanity on the jobsite, out of respect for the client.
A strong believer in promoting from within, Merle has implemented a process that enables workers to move up within the company. Made up of a written and a practical test, the system assigns an operator class to employees based on their proficiency on a number of machines, and allows them to receive incentive compensation. Interns, who make $8 per hour at other companies, are paid $12 per hour by Genesee.
His employees bend over backwards to help Merle in any way they can. When he noticed via the equipment tracking apps installed on his phone that his equipment idle time was at 22 percent, he asked his operators for help in reducing that number. Within a week, idle time had dropped by 50 percent. Merle promptly calculated the savings and returned a portion to the employees as a bonus.
Merle has shown his appreciation for his employees' loyalty in ways few contractors can. During the recession, he refused to lay off a single employee, choosing instead to take a personal pay cut to allow the company to thrive.
Implementing a growth plan
Although he has maintained steady growth, preferring to be the best rather than the biggest, Merle is now making long-term plans to allow his people to take on more management roles within the company, including running their own show. "For people who want to work, the sky's the limit," he says. "To allow people to grow, the organization will need to grow."
With that in mind, he's brought in or promoted some key players who will shape the business. His daughter, Mary Ellyn, who has worked for the company in one capacity or another since junior high school, is now the firm's director of marketing and communications. Her brother Jonathan, currently studying at Roberts Wesleyan College in Rochester, will only join the firm if that's the path he chooses, Merle says.
He also brought in a project manager, Rich Tyler, who had worked for a larger organization that had worked on a job with Genesee. Tyler impressed Merle right away. "He wasn't a typical project manager," he says. "He didn't sit in the trailer and tell people to take care of things – he gained the respect of my employees."
The opportunity to work for Merle attracted Tyler for a number of reasons, including being a part of the company's growth and succession planning. "There were no layers of management," he says. "They push the schedule and the projects. With larger organizations, there's a lot of process to deal with." Tyler also liked the way Merle's mind works. "He's willing to accept ideas, but cautiously," he says. "And he's willing to try new things, but smartly."
The succession and growth plan is not going to be put into place to allow Merle to retire and live a life of leisure; he says he can't imagine a time he wouldn't feel the need and the drive to work. His family knows he is and will remain obsessed with construction – at Christmas, they presented him with a collector's 1935 edition of Mike Mulligan and His Steam Shovel – and they expect him to drive the company forward.
Rather, the growth plan is an opportunity to allow family and employees to experience some of the benefits and gratification of ownership Merle himself enjoys. For Merle, a man who once bought 13 pigs at a 4-H auction to prevent low bidders from walking away with the fruits of the children's labor for a steal, continued growth also allows him to continue with his philanthropic work, which includes mission trips to Ghana, additions to a local school and providing assistance to the area's food pantry.
"I'm living The American Dream, and I want to give back," he says.