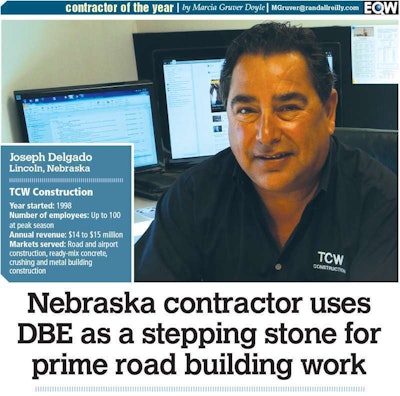 The TCW in TCW Construction stands for "Tony's Cement Works," a tribute to the company started by Joe Delgado's father, Lorenzo (Tony) Delgado. "We use his wheelbarrow logo to this day," says Delgado, president of the Lincoln, Nebraska firm.
In true American dream fashion, however, the son's company has far eclipsed what his father started. While his father's firm concentrated on driveways, sidewalks and patios, TCW now does $14 to $15 million in annual revenues paving streets and airports, operating a ready-mix plant, and holding the local franchise for Butler Buildings.
"I didn't think I was going to college, because my parents were not well off and the Bottoms area of Lincoln is not an area where a lot of kids went on to school," Delgado recalls. But, an opportunity arose, and eventually, armed with a construction management degree from the University of Nebraska, Delgado began working for the giant Kiewit Corporation on jobs in Colorado. After several years with Kiewit, home called, and Delgado joined his father in 1985.
Diversification and expansion
TCW immediately expanded its focus after Delgado came home, doing large box culverts and bridge jobs for the Nebraska Department of Roads, and cleaning up contaminated soils for the U.S. Army Corps of Engineers. After buying the firm in 1998, Delgado started Husker Ready Mixed Concrete and bought a Butler Building franchise.
Delgado started Husker Ready Mixed Concrete in response to the rigors of placing roadway concrete and because TCW's ready-mix supplier at the time couldn't meet the company's demands. "It has helped foster our competitive abilities in all avenues of the concrete industry," Delgado says. Eventually, the firm acquired a crusher to process the excess concrete, both from TCW's jobs and from the ready-mix plant. "This gives us aggregate for both ourselves and our clients," Delgado says. "Most of what we crush goes back into construction, such as creating roadway base and pipe bedding."
Concentrating on concrete, the company paves roads and airports, and also does curb and gutter work. "The road jobs, in particular, have really helped us get the volume of work," Delgado says. "About the only thing we don't do is massive earthwork." Erecting buildings, along with installing culverts, keeps his crews busy during the winter.
During peak summer times, TCW's crew expands from 30 to around 100. TCW partners include Delgado's brothers; Scott, who manages Husker Ready Mixed Concrete, and Ryan, a field superintendent.
Fleet matters
TCW's fleet includes excavators, wheel loaders, backhoes, compactors and compact track loaders. Its truck fleet has 12 side dumps and 15 ready-mix trucks. Delgado says he's come to appreciate the compact track loader. "We've switched almost completely from skid steers to compact track loaders because they allow you to get in the mud and not sink, and you can easily grade with them," he says.
With four fulltime mechanics, TCW does most maintenance and repairs in house. "That way, we can fix machines on our schedule and pay attention to our own fires," Delgado says.
Because of Delgado's Mexican-American heritage, TCW is classified as a Disadvantaged Business Enterprise (DBE), a designation that helped the company get started with NDOR work. "When we first started, we didn't have bonding, and the DBE designation helped us with that. In fact, we still have the same bonding company as we did when we started." TCW started as a sub, but now is a prime contractor as well.
"We like prime work better because we can determine our own destiny," Delgado says. "Not everybody cares for the DBE program, but if people get a fair price, it makes it so much easier. Now, we have come to a point where we don't have to have a DBE designation."
"They are an aggressive company…in a respectful sort of way," says client Ray Hernandez with Beatrice Ford, which has used TCW's building services. Adds Andy Biel with consulting engineer Alfred Benesch & Company: "Joe is one of the most ethical contractors I've met. He goes the extra mile to make an owner happy. If something's in a gray area, he'll take care of it." And, says Biel, the company's journey from a DBE sub to a large prime contractor has been interesting to watch. "They're not going to buy work; they want to win projects the right way."
Industry support
Delgado believes in supporting his industry, and has served on the boards of the Nebraska Associated General Contractors, the Nebraska Concrete Pavement Association and the Durham School of Architectural Engineering and Construction at the University of Nebraska.
His involvement with these groups helps keep him aware of state and federal construction issues. Delgado calls the Fixing America's Surface Transportation (FAST) Act, signed by President Obama in early December, "huge for us." Delgado is also encouraged because Nebraska is considering a Transportation Innovation Act, which would transfer $150 million from the state's cash reserve fund to finance road projects. "These two things mean the grassroots efforts of contractors are working," he states.