"I knew from high school I wanted to be a contractor," says Jeff Pettiecord. So he started doing small remodeling jobs shortly after graduating, and eventually started his company in 1984.
But it was the early 1980s and times were tough. "I literally chased fire trucks," Jeff recalls. He'd call on the owners of the fire-damaged buildings, offering his restoration services. He then took on snow -removal, any job he could find, and found he needed more equipment. "I ended up buying a backhoe," Jeff says, "and started digging with it, and just kept on going."
Nick Wylie, J. Pettiecord's executive vice president, calls the company "crazy diverse. We do the things that other people don't want to do." That includes environmental construction, 24-hour spill response, underground storage tank removal, heavy hauling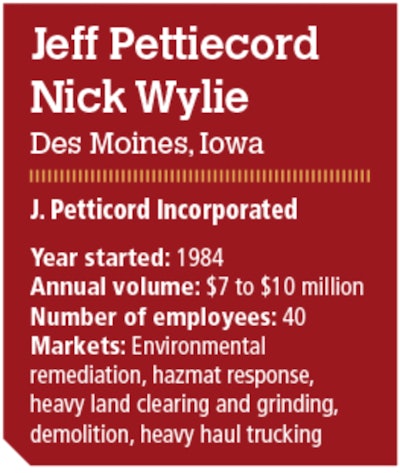 and land clearing. And now the company has branched into Iowa Department of Transportation highway work. "Highway funding is huge for us," Nick says, a fact that's prompted him to lobby for highway funding in the Iowa legislature, located just down the road from the firm's offices in northern Des Moines.
Wylie joined J. Pettiecord when he was 19 years old and going to college. The first year, he worked in the shop and drove a truck, then took on estimating. He continued both: working full time and -going to college, earning a business degree. After working for another company for more than a year, Wylie came back to J. Pettiecord. "It was the best decision," he says. "Jeff and I compliment each other, and we see things from different perspectives, which is good." Adds Pettiecord: "He's been a fantastic asset to the company."
Clients are raving fans of this leadership team. "Pettiecord is one of the most professional, easy to deal with, and outstanding firms we've ever worked with," says Darren Fife with engineering firm Barker Lemar. "They stand out for their level of detail, expertise and quality of work."
"Jeff is the most ethical contractor I know," says client Tom Norcross with Jim Hawk Trailers. "We spent $1.8 million tearing down our office and rebuilding it. Jeff did the demo and dirt work and I had him do it without a bid. I knew he'd treat me right. When the bill came in, it was just what I expected."
Seven-bay shop
J. Pettiecord's slate of heavy work requires massive amounts of equipment. The company has a seven-bay shop and seven technicians. "We keep our mechanics busy year around," Pettiecord says, adding that "you can throw anything at" mechanics Todd Johnson and Dave Phillips. "They are just phenomenal."
J. Pettiecord's fleet includes three horizontal grinders, 25 excavators, six dozers, five wheel loaders, 12 dump trucks, 40 tractors and nine side dumps.
"We buy a mixture of used and new machines," Pettiecord says, adding that since so many of the area's equipment dealers are also heavy haul clients, making use of their eight low boys to move equipment, they "spread the love" when it comes to equipment buys.
And Pettiecord and Wylie like to see what's new, especially at ConExpo. "I'm a big equipment nerd, and all day, every day I'm at that show," Wylie says. The company sent four people to the 2014 show. "It's worth every penny; we come back with so many ideas."
Encouraging promise
"Our guys are guaranteed 40 hours of work year around," Pettiecord says. And family is first. "We feel a great responsibility that they all have families and they depend on our leadership to keep this place going," Wylie adds.
Pettiecord and Wylie take note of promising people, taking them under their wings. One example is Patricia, or Trish, Hood. The 23-year-old mother of two didn't have a driver's license or any construction experience when the company hired her. Within a few months of doing general labor work, she had her Class B commercial driver's license and started driving a dump truck. A few more months and she had her Class A CDL, driving the firm's heavy-haul tractor trailers.
While driving a dump truck at a jobsite in Winthrop, Iowa, Patricia's curiosity got the best of her. Pettiecord was using a Cat 973 track loader to load Patricia's truck, but then was called away from the site. She used the opportunity to climb into the 973 cab. "I thought, 'well I'll either get fired or he'll tell me to keep on going'," she recalls.
Working the controls, she figured out how to fill a bucket. "By my second bucket, Jeff came back, and told me to keep on going, and that was my start," Hood says. She was hooked on equipment operation.
She started in the company's equipment yard, moving salt with a compact excavator. Next, Patricia found herself on a job using a Cat 325 with a Morbark tree shear head to process cut trees to put in the company's Peterson grinder. Now she's advanced to the point that she's running her own crew.
"She's running more jobsites now," says Wylie, "and the degree of difficulty keeps on increasing. In such a male-dominated industry, Trish has earned respect in and outside the company."