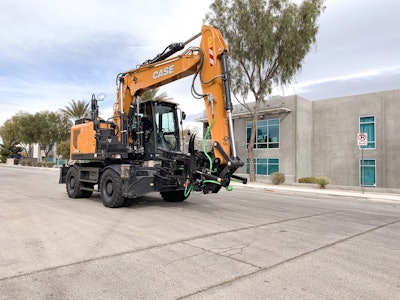 Case Construction Equipment
Hit the streets at speeds up to 22 mph with the new WX175E SR short-radius wheeled excavator from Case Construction Equipment.
Previewed at ConExpo-Con/Agg 2023, the WX175 E SR is one of several wheeled machines Case is adding to its E Series lineup of excavators. While Case has consistently offered wheel excavators overseas, the announcement marked the product line's re-entry to the North American market.
[WATCH: Test Run of Case's New E Series Excavators]
Built for working on roadside projects and in metro areas, the WX175 SR offers powerful hydraulic performance, responsive controls, attachment flexibility and an enhanced operator experience with a large cab, automotive styling and creature comforts, Case says. As a wheeled machine, the unit is capable of self-transporting between jobs.
"Jobsites are becoming tighter; transporting steel-tracked equipment relatively short distances can be challenging, and steel tracks represent a large portion of the lifetime owning-and-operating costs of any piece of heavy equipment," says Diego Butzke, product manager, Case. "The new lineup of Case wheeled excavators addresses and improves on those challenges while still delivering a full-featured excavator experience capable of both production-level hogging and more specialized use with attachments."
Case Construction Equipment

WX175E SR Performance Capabilities
The WX175E SR weighs in at just over 44,000 pounds and operates at a rated 173 horsepower at 2,200 rpm. It can easily work up against structures, existing infrastructure and along roadsides while taking up a minimal amount of space thanks to its short-radius design.
An engine auto-idling and shutdown feature saves fuel, reduces noise, reduces engine hours and cuts exhaust emissions. To further reduce emissions and operating costs, an Eco gauge monitors engine efficiency.
The excavator's load sensing hydraulic system allows for multi-functional operation and precise machine movements, while proportional auxiliary hydraulics enable smooth control of attachments. An optional Fine Swing control improves precision and reduces material spillage, and Power Boost provides an immediate increase in power when needed.
Joystick steering allows for easy maneuvering, and the four-wheel hydrostatic drive ensures traction – even in less-than-ideal conditions. Ride Control provides operators with a smoother ride, increased comfort and less material spilled from the bucket, Case says. Auto-Brake allows the work to begin immediately after stopping the machine from travel.
Up to 20 attachments can be programmed and stored to the WX175E's in-cab display for customized control, access and recall. The Case Max View camera system shows a 360-degree field of view with intelligent moving-object detection technology and a warning system around the machine, regardless of weather or lighting conditions.
An electronic reversible fan provides automatic engine cooling, while a self-cleaning mode eliminates dust and debris from the engine compartment.
Case says all of the features listed above will also be included on future wheeled excavator releases.
"Case wheeled excavators give roadbuilders, utilities and public works departments a powerful new resource that simplifies transportation and saves space on the jobsite — all while still delivering the quality in performance that Case excavators are known for," says Butzke. "These models are one more example of the Case commitment to deliver products and solutions that solve real-world problems out on the jobsite."