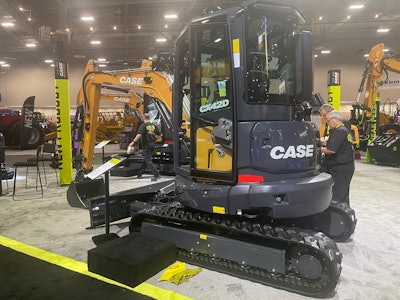 Equipment World
As demand for mini excavators continues to grow, Case Construction Equipment launched its new D Series lineup of mini excavators at ConExpo-Con/Agg, starting with the zero tail swing CX42D.
The manufacturer also launched two electric models at the show – the CX15EV and the CX25EV. (Catch our coverage and a video walkaround of the CX15EV here.)
"Electric to diesel, true zero to conventional tail swing, cab to canopy, Case now offers a full range of mini excavators to match any need and operator preference — including the ability to access any construction or landscaping site," says Brad Mace, product manager. "Each machine is built with premium features and performance that empower the operator to succeed in the types of jobsites and environments they work in — whether that's utility work indoors that requires a zero-emissions machine or production-level trenching on a commercial development."
Expanding on the C Series product line, the 9,259-pound (4.2-metric-ton) CX42D represents a new weight class for the manufacturer. Additional Case D Series mini excavators – the CX19D, CX35D and CX60D - will be introduced in 2024.
"The CX42D exists in a critical industry weight class between 4 and 5 metric tons that we did not previously have machines," says Mace. "This ensures that we have a total fleet of solutions to deliver to contractors and business owners and allows us to bring the next level of premium mini-excavator performance to the market."
CX42D Key Features
Case says the new additions to the product line allow operators to get extremely close to buildings and obstacles without sacrificing excavator performance.
"The first thing that operators will notice as they get in the cab is the comfort and feel — a real automotive-style experience built into a mini excavator," says Brad Stemper, North American construction equipment product management lead. "There's a massive 7-inch monitor, excellent control adjustability, and great visibility down to working areas with big glass and intelligent structural design of the machine."
The monitor features a navigation wheel mounted near the joystick enabling operators to access information and controls without straining to reach the screen. In that screen, operators can also select from three work modes – Power, Standard or Economy – and customize hydraulic proportional controls and auxiliary hydraulics for optimal performance.
A two-way blade comes standard and an optional six-way blade can enhance backfilling and grading operations. Additional counterweights can also be added to the machine for improved balance while lifting.
Standard two-speed travel with automatic shift down improves performance when tracking and carrying up hill. Standard multifunction (one-way/two-way) hydraulics and standard second auxiliary (two-way) circuit allow the new D Series machines to handle a variety of attachments. An optional third auxiliary circuit is also available. Each machine comes standard with a thumb bracket and can be ordered from the factory with an optional thumb.
Additional optional features include a mulcher package and a direct drain for equipment requiring drainage to the tank without back pressure. A hydraulic quick coupler or mechanical quick coupler are available from the factory, or a standard pin-on-bucket is an option for operators who don't plan on changing buckets or attachments.
"Mini excavators are continuously underrated as attachment platforms, and the new Case D Series models are built to prove they can deliver excellent multipurpose capabilities," says Mace. "And we give them the ability to set up and save parameters for nine different attachments and customize the flow based on tool type for optimal performance and operator experience."
Similar to the new electrified models, the CX42D comes standard with Case SiteWatch telematics and is compatible with precision construction technologies.