To meet the growing industry demand and create a new entry point for larger machines, Case Construction Equipment has introduced the TL100 mini track loader. It sends the company squarely into the subcompact space.
The TL100 debuted at Con Expo 2023. It is going into production now and should be available at Case dealers by the end of the year.
You can see more of what OEMs had at ConExpo 2023 on our show page by clicking here.
"You've heard us talking a lot about doing more with less, and in many ways, this mini track loader falls into that principle with a lot of big performance packed into an extremely portable and versatile machine," Brad Stemper said. "These machines are extremely nimble and easy to operate in confined spaces."
With an unobstructed 360-degree visibility, he said, it operates and feels much like a traditional skid steer or compact track loader.
The 25-horsepower Case TL100 has an operating capacity of 1,000 pounds and has a standard auxiliary hydraulic setup (13 gallons per minute, 2,700 psi) for attachments. Weights can also be added to increase the tipping load and rated operating capacity.
"No matter how you look at it, this will be a dynamic addition to the Case product portfolio for landscapers, utilities, rental houses and more. We're very excited to bring customers a high-spec, very premium machine that provides a lot of capability," Lewis said.
With the launch of the TL100, Case is entering a crowded market. The stand-on mini-track loader market is anticipated to grow exponentially for the next 10 years as there is greater demand for work that require traveling over existing lawns and turf without causing damage.
"There are lots of competitors that have a model that's very similar," Lewis said. "We're entering the MTL market with the weight and power of a global full-line manufacturer who has taken its time, researched the product demand and engineered a machine that is ready to deliver serious performance for landscapers, residential services contractors, utilities and farms — we also expect this to be extremely hot with rental businesses."
He noted that the compact size, ease of transportation and attachment compatibilities make this a dynamic addition to the CASE product line and dealer network.
"We feel like that as a full line manufacturer, Case can bring a lot of value to customers that are entering into the mini track loader space, possibly someone that's just getting started and moving up in the world, and a few years, they may be interested to move up into maybe a skid steer or compact track loader or a mini excavator or any of the other product lines that we carry at Case."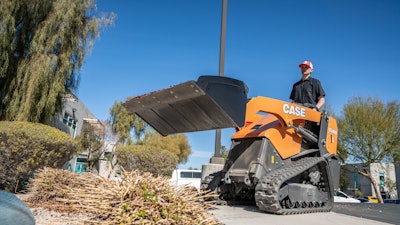 The introduction of the TL100 comes in conjunction with Case's entrance into the compact and subcompact wheel loader market.
"Each adds another tool in the toolbox for our dealer network," Stemper said. "We're already serving these markets and we're coming at manufacturing this from a full line manufacturer perspective, versus the majority of players in these two spaces, who do it from a specialty product perspective."
Addressing demand from customers and dealers, he said, Case has delivered a product with premium features and performance.
"We see these as mature and strong additions to our comprehensive product offering and a critical tool for growing and evolving businesses that are now supported by a true full-line manufacturer and dealer networks," Stemper said.
According to Lewis, despite the intense competition, there are a few things that set Case's machine apart from others. In addition to being a mini track loader capable of listing 1,000 pounds, the TL100 also features hydraulic joystick pilot controls (ISO pattern) to make it easier to operate.
"It's very comfortable for a customer that's accustomed to skid steers; it uses the same ISO joystick pattern," Lewis said.
In addition, he said, there are some premium features when it comes to attachments. The standard auxiliary hydraulic setup for attachments connects through a Common Industry Interface (CII) compatible with most major attachment manufacturers. The TL100 also has an optional 14-pin front electric connector that includes a hydraulic case drain circuit, multiple track widths, additional counterweights, environmentally friendly hydraulic oil and multiple bucket options.
It can access to over 150 attachments. "A lot of times in our customer experiences on the mini track loader is that the attachment is really what's driving the application, and the machine is a power plant to drive the attachment," Lewis said.
As part of the purchase, customers get a five-year subscription to Case SiteWatch telematics.
"Making these technologies available as a standard offering to compact and subcompact equipment owners bring their fleet management game to another level and opens the door to a deeper collaborative service and support relationship with their Case dealer," Lewis said.
"We are fully committed to this market and are excited to work with our dealer network to share these new, premium MTLs with fleet managers and business owners who thrive with compact equipment."
Quick Specs
Engine: 25 hp
Rated Operating Capacity: 1,000 lbs.
Width: 40.4 in.
Weight: 3,536 lbs.
Lift geometry: radial
Hinge pin height: 86.7 in.
Reach at dump height: 20.1 in.