While other equipment basks in the limelight, dozers keep toiling away in the background. There are no new applications, no profound upgrades to design technology, no threat of dozers stealing market share from other types of equipment. Despite that, newsworthy things are happening with dozers, and it would be a mistake to dismiss them as the same old machines with slightly altered model designations.
"We're enjoying the lull that followed moving everything to Tier 4 Final," says Jason Anetsberger, senior product manager, Intelligent Machine Control, Komatsu. He says that while no major changes have occurred since the move to Tier 4 Final, there have been improvements, refinements and the addition of features. "Basically, it's the same machines doing the same applications, but more versatility is available for those who need or want it."
The introduction of a wider-gauge version of the Komatsu D65 is one example of added versatility. The D65PX-18 and DX65PXi-18 are now available with 14-foot, 1-inch blades and 36-inch shoes. (The "i" designates Intelligent Machine Control.) "These models received steering system improvements to provide better steering under load," says Jonathan Tolomeo, product marketing manager, crawler dozers, Komatsu. "They're also among those available with a six-way blade." Tolomeo says Komatsu offers rippers on all their dozers.
Configured with a standard shoe and power-angle-tilt (PAT) blade, the D65PX-18 can be used for finish grade, replacing a motor grader for that task. The DX65PXi-18, with its standard Intelligent Machine Control, can work in automatic mode from rough cut to final grade, which Anetsberger says helps customers optimize utilization rates and thereby maximize their return on investment.
Nathan Horstman, product marketing manager, crawler dozers, Deere, says bringing a six-way blade and 285 horsepower to the 950K size class delivers versatility to the large dozer market. With an 8.6-cubic-yard blade, the Deere 950K PAT is the largest dozer with a six-way blade, says Horstman. "Historically, the outside dozer configuration was used on a large dozer for mass excavation. Now there's a large dozer than can do both mass ex, spreading and finish work."
Electronics expanded and refined

Max Winemiller, director of product management, road building and site prep division, Case Construction Equipment, explains the levels of machine control available. 1D systems, such as the Case SiteControl CoPilot, provide simple grade and slope guidance through indicate-only functions. Ideal for digging foundations and rough grading, 1D systems are a cost-effective entry point for machine control.
2D systems work in two dimensions at once: plane and slope. Basic 2D systems are well-suited for residential and general construction and drainage work. With the aid of lasers and reference points, 2D grading systems can regulate elevation and cross-slope and work well for mid- to large-size residential and commercial developments.
3D systems add a Z coordinate, which is elevation, to the X and Y coordinates. Relying on a base station or total station plus onboard sensors and GNSS receivers, these systems provide the greatest accuracy. And accuracy can be scaled to the job, down to sub-centimeter precision when required. While they likely have visual components, 3D systems are the heart of advanced automated machine control.
"It's important to know that most 1D and 2D systems are easily scalable to 3D systems as a contractor's needs grow over time," says Winemiller. "Many of the sensors, lasers and other basic components of these systems are integrated into 3D systems as well, so upgrading to a more advanced system is often easier and less costly when the time comes."
While Case has a partnership with Leica Geosystems for factory-installed and aftermarket systems, Case M Series dozers are compatible with blade control technologies from not only Leica but also Topcon and Trimble. Case has placed precision construction specialists in a number of dealerships nationwide to work with sales staff and customers in selecting and configuring technology features that are right for each customer's application.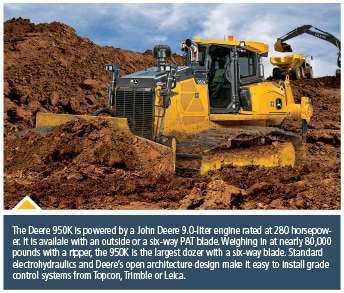 Deere has expanded SmartGrade to all PAT configurations on the 650K, 700K, 750K, 850K and 950K. SmartGrade is an integrated Topcon 3D-MC2 system. Because it's factory-integrated, there are no external masts or cables.
Komatsu offers Intelligent Machine Control on 17 dozers, from the 105-horsepower D39EXi-24 to the 354-horsepower DX155AXi-8 mining dozer. Included are eight variations of the D51 and D61 models, which are often found in applications where the ability to do finish grading is a big plus, says Anetsberger. He says 2018 marks the fifth anniversary of Komatsu Intelligent Machine Control, and more than 1,500 Komatsu machines working in North America are equipped with it.
Winemiller says not all advances in electronics are on the scale of machine control; many are more subtle but still improve the operator's experience and performance. Load management systems balance the load with drive torque to minimize engine stalling and track slip. Adjustable controls allow steering and shuttle sensitivity to be tailored to conditions and operator preference. Case 1150M, 1650M and 2050M dozers feature new electrohydraulic joysticks with improved feel and responsiveness.
Energy sector
Although there are no new applications for dozers, there have been shifts in applications. The increased use of dozers for finish grading has already been mentioned. The strong energy market has also boosted demand for dozers to serve the oil and gas industry. Deere introduced two new models to meet this demand, the 1050PL 170 and 1050PL 220.
The 1050 has been a workhorse in the Deere lineup for some time, but these new additions are purpose-built for pipelaying. The "PL" indicates a machine set up to easily accept a side boom. The 170 and 220 relate to the maximum lift capacity of 170,000 and 220,000 pounds. All side boom functions are controlled with a single joystick to reduce operator fatigue. Deere added a skylight to the purpose-built cabin, so operators have clear line of sight to the pipelayer boom. The track gauge is extended for greater stability. Horstman says the pipelayer-ready platform allows a one- to two-day installation time for a pipe-laying package versus two to three weeks if a standard dozer is rebuilt for the purpose.
Compact equipment a threat?
In recent Machine Matters, we've discussed the realignment in market share as skid steer and compact track loaders and, to a lesser extent, compact wheel loaders tussle for sales volume. We've also covered the use of larger, more powerful compact equipment to do what had been tasks solely given to dozers. The largest compact wheel loaders, for example, are being used for dozing chores. So are the largest compact machines starting to cut into sales of the smaller dozers?
"We're not seeing that," says Anetsberger. "Sales of the D37 and D39 Series remain healthy."
"CTLs are very versatile," adds Horstman. "They're good on and around finished surfaces and can get over a curb without damaging it. But for moving large volumes of material, a dozer remains the right choice."
The one thing
We asked our subject matter experts to cite one thing dozer owners and operators could do to improve their experience and enhance the machine's value. Horstman's advice was to use Eco mode as the standard, rather than a fallback for special conditions. "Deere's Eco Mode will never sacrifice performance since the engine automatically increases the power level as the blade load increases. You get up to 20 percent fuel savings with no loss of production," says Horstman. In fact, he says, production may actually increase because of reduced track slippage.
Anetsberger said owners should look beyond the machine. "Yes, the dozer is more efficient. However, it is important to analyze the enhanced efficiency that the machine can bring to the entire worksite." Part of that process is effective use of the data broadcast from the machine via telematics. "Measure and benchmark productivity. Replicate what works best. Use the data to improve training."
Tolomeo says both operators and service technicians can benefit from a better understanding of undercarriages to maximize undercarriage life and reduce costs. "Proper maintenance and adjustment are key to extracting maximum value from the undercarriage."