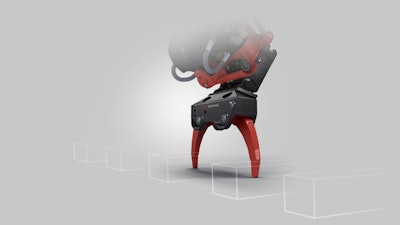 Rototilt has designed a new grapple for the railroad industry, the RR820, with heavy-duty claws for handling ties and rails.
The grapple has a lifting capacity of 11,000 pounds. Its cylinders are equipped with load-holding valves that keep a grip even if the hydraulic system loses pressure for added safety, the company says. The RR820 also includes the company's ICS SecureLock, which provides continuous monitoring to make sure the coupler is locked and informs the operator if it's not attached properly.
Rototilt also angled the RR820 by 40 degrees for increased efficiency. It is detachable and can be used with Rototilt's tool and control systems.
The grapple has tip-to-tip force of 14,500 foot-pounds and max hydraulic pressure of over 3,600 pounds per square inch. The claws open to 32 inches wide.
The RR820 can be matched with these Rototilt's tiltrotators and quick couplers: R4 with coupler S45 RR/QC45 RR and R5 with coupler S60 RR/QC60 RR.