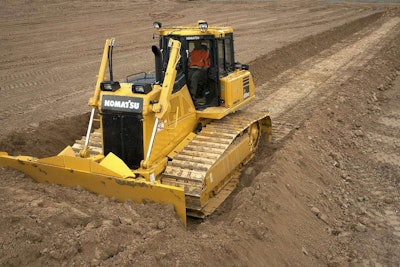 Komatsu has added yet another dozer to its lineup of machines equipped with intelligent Machine Control, the company's semi-automatic earthmoving tech.
Situated between its largest iMC dozer, the recently-unveiled D155AXi-8, and the D61i-23, the company has unveiled the D65PXi-18. The long track, low-ground-pressure machine is powered by a 217-horsepower Komatsu SAA6D114E-6 Tier 4 Final engine.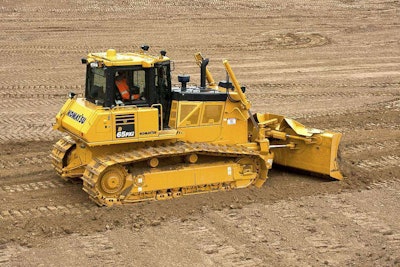 The engine is paired with a an automatic gearshift transmission and lock up torque converter. By transferring engine power directly to the transmission, horsepower loss is eliminated, and fuel consumption is reduced by up to 10 percent.
But as is the case with all of Komatsu's iMC machines, the real story with the D65PXi-18 is the dozer's built-in machine control, which allows the machine to be placed in automatic from rough dozer all the way through to finish grading.
iMC allows the dozer to sense and control blade load thanks to a pairing of stroke-sensing hydraulic cylinders and an Inertial Measuring Unit. And since the system is wireless and mounts no components to the machine's blade, there's no need to worry over any damage coming the system's way, unlike with aftermarket solutions.
In fact, Komatsu is now saying iMC saves operators 30 minutes each day over aftermarket machine control solutions since no climbing and connections are necessary to be made. Komatsu says that 10-hours-per-month savings should be factored into cost of ownership calculations.
Beyond all of that, Komatsu says iMC provides an 8-percent boost to moved material compared to aftermarket solutions.
The machine is the seventh Komatsu machine to carry the iMC badge. In January, the company announced a new service for Japanese customers called SmartConstruction that pairs these iMC machines and drones to fully automate pre-foundation work jobsites.
Operators will call a ROPS, sealed and pressurized cab home, with large windows and damper mounts that isolate the cab from the machine frame, softening shocks and vibrations throughout the workday.
Komatsu CARE is provided for the first three years or 2,000 hours, and includes scheduled factory maintenance, a 50-point inspection at each service, and two DPF exchanges and DEF tank flushes in the first five years.
Komatsu's first iMC machine was the D61i-23 crawler dozer and was followed by the D51i-22, D37-23 and D39i-23 just before ConExpo 2014. The company unveiled the D155AXi-8 in April and in November released the PC210LCi-10, its first iMC excavator which the company says cuts production time by 63 percent.