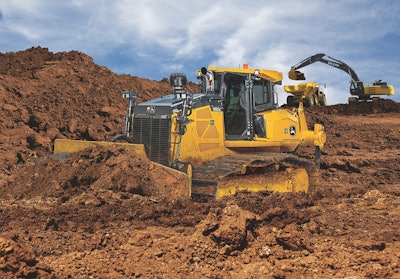 In what it calls an industry exclusive, John Deere has put a six-way Power Angle Tilt blade on its production class 950K dozer. ConExpo attendees got a preview of the 950K/PAT combo, which is expected to be available this fall.
"Our customers were asking for a machine that does both heavy excavating and fine grading work," says Nathan Hortsman, Deere's product marketing manager, crawler dozers. "With the addition of the PAT blade, along with the Deere SmartGrade 3D grade control system and a hydrostatic powertrain, we're able to do just that." Hortsman adds that while the SmartGrade system enhances the capabilities of the PAT blade, the blade can also be operated in manual mode.
Powered by a Tier 4 Final John Deere 9.0-liter 265-horsepower engine, the 950K uses a hydrostatic powertrain that Deere says will get approximately 15 percent more power to the ground versus a conventional torque-converter powertrain.
In addition, the dual-path hydrostatic transmission lets an operator push a full load through turns without losing material, unlike conventional torque-converter transmission.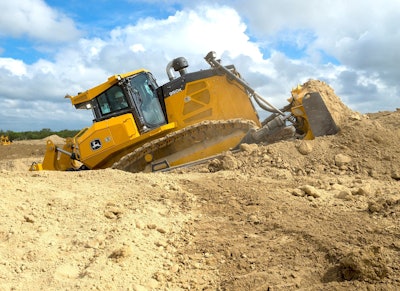 The machine is available in both standard and low ground pressure configurations.
Using a hydraulic power-pitch option, the operator can control the PAT blade pitch from the cab. A return-to-pitch setting lets the operator preset blade-pitch positions, and activate them with a button push. The blade pitch is also adjustable using three mount locations on the blade.
Standard electro-hydraulic controls mean a grade control system can be easily plugged in and calibrated. Deere is adhering to its open architecture design, which allows users to select their preferred grade control system from Trimble, Topcon or Leica. And Deere says its SmartGrade system will soon be available on the dozer, with a Topcon 3D-MC2 factory-installed grade control system.
The Eco mode found throughout its K Series dozer line will automatically adjust engine speed and transmission based on load, a feature that can reduce fuel consumption by up to 20 percent, according to Deere.