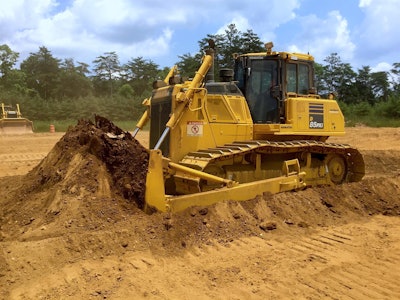 Komatsu is expanding its lineup of semi-automatic machines with the unveiling of a new intelligent Machine Control (iMC) dozer.
The D85EXi/PXi-18 are the seventh iMC dozer model to be introduced to the lineup and fall between the D65PXi-18 and D155AXi-8.
The D37PXi-23, D39PXi-24, D51PXi-23, D61PXi-23 form the rest of the lineup, which in 2013 introduced the concept of a dozer shipped from the factory with integrated GPS/GNSS machine control hardware—using no blade-mounted antennas—and the ability to operate in automatic mode from rough dozing through finish grading. Komatsu also makes three iMC excavators: the PC210LCi-10, and the recently introduced PC360i-11 and 490LCi-11.
iMC allows the dozer to sense and control blade load through a pairing of stroke-sensing hydraulic cylinders and an Inertial Measuring Unit. When auto mode is engaged, the system automatically starts the cut and lowers the blade to the correct grade. The blade is raised once the system senses that the load has increased to the maximum.
Komatsu says iMC provides an 8-percent boost in efficiency compared to typical aftermarket machine control systems. And since the system is wireless and mounts no components to the machine's blade, there's no need to worry over damage to the hardware and no more time spent mounting hardware.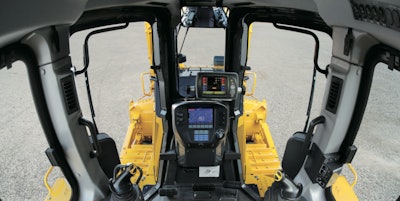 The new D85i-18 dozers are powered by a 264-horsepower Komatsu SAA6D125E-7 engine that meets Tier 4 Final emissions requirement through the use of a diesel particulate filter (DPF) and selective catalytic reduction (SCR).
The dozer is equipped with Komatsu's Sigmadozer blade which the company says increases production over conventional semi-U blades by 15 percent by digging and rolling up material at the center of the blade.
Komatsu says customers can expect a 20-percent increase in fuel efficiency over a dozer equipped with a semi-U blade and manual transmission with the D85i-18 thanks to the Sigmadozer blade's better efficiency in tandem with the D85i-18's automatic transmission and Tier 4 Final engine.
The D85i-18 dozers also feature two working modes for operators to choose from, Power and Economy, along with automatic and manual gearshift modes.
Inside the cab operators will find a new seat with lumbar support, a tilting adjust function and electric heater. A 7-inch high-resolution monitor displays real-time fuel economy and diagnostics should the need to troubleshoot arise. The monitor also displays the view of the machine's rear-view monitoring system, which is a standard feature.
Included at no cost with is Komtrax telematics, allowing operators and fleet managers to keep up with the machine's fuel levels, operating hours, location and more while providing cautions and maintenance alerts via a website or a smartphone. Additionally, Komtrax monitors DEF levels, ambient air temperatures and pressures.